Posted On: May 2, 2018
FULL LIST OF NOMINEES FOR THE 2018 WESTERN CANADIAN MUSIC AWARDS ANNOUNCED!
Toronto, ON – May 2, 2018 – Today, the Western Canadian Music Alliance is thrilled to announce the talented artists and members of the music industry that have been nominated in the 2018 categories. The winners will be honoured this fall at BreakOut West in Kelowna, BC, which takes place from October 10-14. Please see below for the full list of nominees and watch for the Hall of Fame announcement coming soon!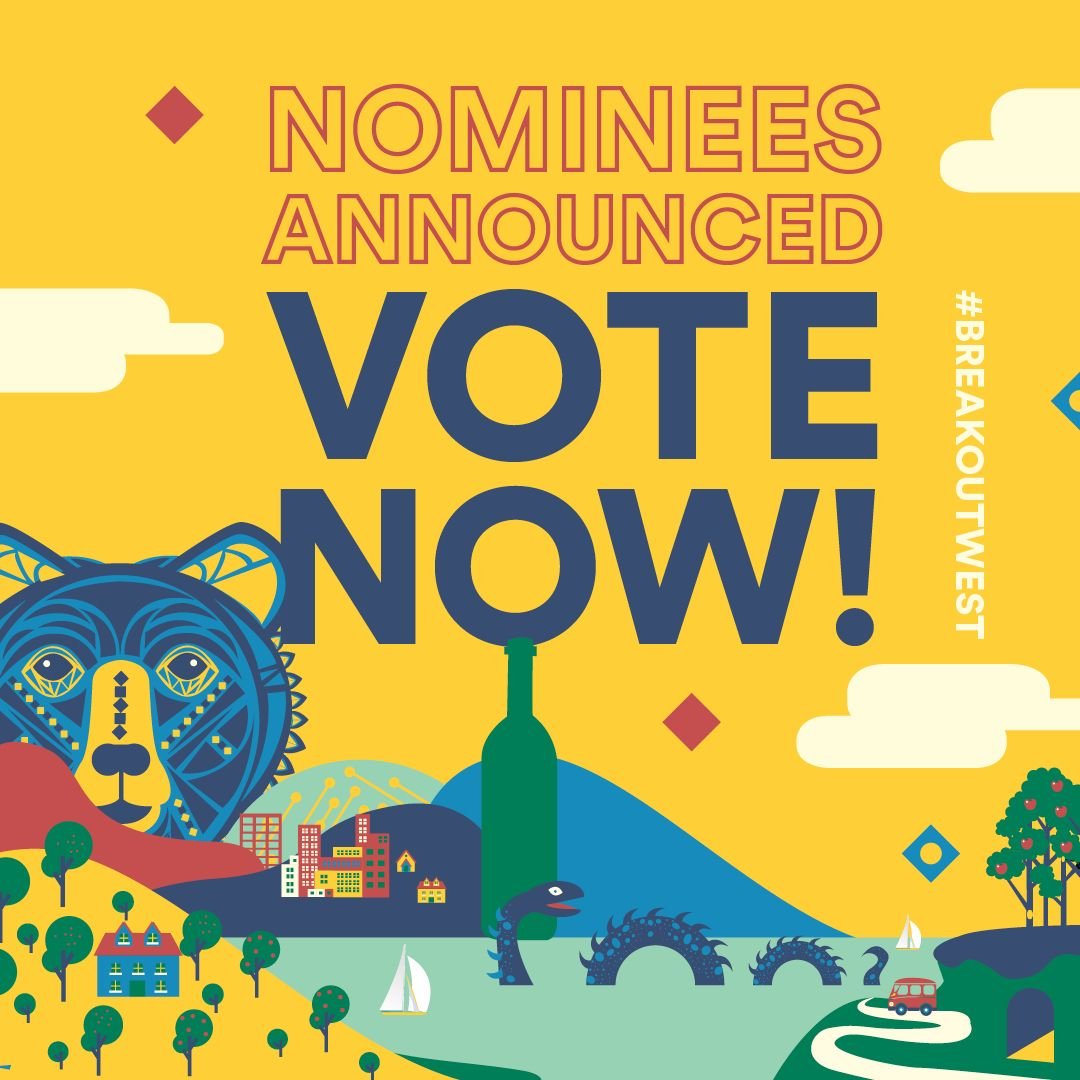 2018 is shaping up to be an exciting year for the WCMAs, with nominee representation from all six Member Associations, as well as Nunavut. Nunavut has landed a whopping seven nominations; a strong showing for the first year of submissions being open to the territory's artists. British Columbia, this year's BreakOut West home province, observed the impact of the BC Music Fund programs (administered by Creative BC, a WCMA partner), with 59 artist and industry member nominations, a significant increase from prior years.
Voting is now open to members of all western Provincial or Territorial Music Industry Associations. All members will be sent an email regarding login information to vote (beginning today, Wednesday, May 2). Voting will conclude at midnight, Central Time, on Wednesday, May 16. Winners of the artistic categories will be announced on October 11 at the WCMAwards Reception in Kelowna, and Industry and Specialty Award categories will be presented on October 13 at the Industry Awards Brunch at the Delta Hotel in Kelowna.
2018 WESTERN CANADIAN MUSIC AWARDS ARTISTIC NOMINEES
Blues Artist of the Year
Jesse Roper – BC
Jim Byrnes – BC
Steve Kozak – BC
The Harpoonist & The Axe Murderer – BC
Tracy K – MB
BreakOut Artist of the Year
Attica Riots – MB
Megan Nash – SK
Shred Kelly – BC
The Dead South – SK
The Jerry Cans – NV
Children's Artist of the Year
Bobs & LoLo – BC
Fred Penner – MB
Jessie Farrell – BC
Rockin' Robin & The Magical Tree – BC
The Kerplunks – BC
Classical Artist/Ensemble of the Year (Sponsored by Canadian Music Centre (CMC))
duo corvi – BC
Gwen Hoebig & Karl Stobbe – MB
Megumi Masaki – MB
Victoria Guitar Trio – BC
Winnipeg Symphony Orchestra – MB
Classical Composition of the Year
Jocelyn Morlock – BC
Jordan Nobles – BC
Keith Hamel – BC
Stephen Chatman – BC
Vincent Ho – AB
Country Artist of the Year
Blake Berglund – SK
Brett Kissel – AB
Jess Moskaluke – SK
The Dungarees – AB
The Road Hammers – AB
Electronic/Dance Artist of the Year
Astrocolor – BC
Ghost Twin – MB
respectfulchild – SK
The Funk Hunters – BC
TOVI – AB
Francophone Artist of the Year
Alexis Normand – SK
Étienne Fletcher – SK
Jérémie & The Delicious Hounds – MB
Loig Morin – BC
Sophie Villeneuve – YT
Indigenous Artist of the Year
Celeigh Cardinal – AB
Desiree Dorion – MB
Quantum Tangle – NT
Riit – NV
Snotty Nose Rez Kids – BC
Instrumental Artist of the Year
Apollo Suns – MB
Audrey Ochoa – AB
Jung People – AB
Les Finnigan – BC
Peregrine Falls – BC
Jazz Artist of the Year
B3 Kings – BC
Jeff Presslaff & Julian Bradford – MB
Michael Kaeshammer – BC
Rubim de Toledo – AB
Tommy Banks & Big Miller – AB
Metal/Hard Music Artist of the Year
CRNKSHFT – BC
Silence the Machine – AB
Striker – AB
The Order of Chaos – AB
Violent Betty – SK
Pop Artist of the Year (Sponsored by SOCAN Foundation)
Dear Rouge – BC
Jasper Sloan Yip – BC
Lanikai – MB
Olivia Lunny – MB
The Royal Foundry – AB
Producer of the Year
Ben Kaplan - FlyFantastic Productions - BC
Kodi Hutchinson - Chronograph Records – AB
Russell Broom - Rustysongs Inc – BC
Ryan Worsley - Echoplant Sound – BC
Steve Bays – BC
Rap Hip-Hop Artist of the Year
Def3 – BC / SK
Doom Squad – AB
Merkules – BC
Moka Only – BC
Snotty Nose Rez Kids – BC
Recording of the Year
Attica Riots – MB
Bend Sinister – BC
Dear Rouge – BC
Kacy & Clayton – SK
Leeroy Stagger – AB
Rock Artist of the Year
Band of Rascals – BC
Bend Sinister – BC
Close Talker – SK
nêhiyawak – AB
Scenic Route to Alaska – AB
Roots Duo/Group of the Year (Sponsored by Wards Cider)
Big Little Lions – BC
Kacy & Clayton – SK
The Dead South – SK
The Deep Dark Woods – SK
The Jerry Cans – NV
Roots Solo Artist of the Year
Kim Beggs – YT
Leeroy Stagger – AB
Little Miss Higgins – MB
Matt Patershuk – AB
Slow Leaves – MB
Songwriter(s) of the Year (Sponsored by The Society of Composers, Authors and Music Publishers of Canada (SOCAN))
Adam Fuhr and Keegan Steele, Yes We Mystic, Undertow – MB
Adrian Glynn and Brendan McLeod, The Fugitives, No Words (for L. Cohen) – BC
Dear Rouge, Dear Rouge, Chains – BC
Kacy Anderson, Kacy & Clayton, A Certain Kind of Memory – SK
The Jerry Cans, The Jerry Cans, Ukiuq – NV
Spritual Artist of the Year
Annette – SK
Jordan St.Cyr – MB
NewLaw – AB
Norine Braun – BC
Stephanie Ratcliff – BC
Urban Artist of the Year
FRASE – BC
Ghost – BC
HAVYN – BC
Josh Sahunta – AB
Ruben Young – AB
Video Director of the Year
Craig Range and Kaayla Whachell, Nakasone Folk, Kacy & Clayton, The Light Of Day – BC
William Wilkinson and Oliver Brooks, Ft. Langley, Slow Leaves, How Do I Say – BC
Lloyd Lee Choi, The Herd Films, Mise en Scene, Closer – BC
Nathan Boey, Close Talker, Okay Hollywood – BC
Stefan Berrill, Brass Tacks Films, The Harpoonist & The Axe Murderer, Forever Fool – BC
Visual Media Composer of the Year
Andrew Judah, Our Game – BC
Factor Eight, Impetus – SK
Keri Latimer, This is Not Paris – MB
Matthew Rogers, Is This Life? – BC
Sean William, Small Fish – BC
World Artist of the Year
Farhad Khosravi – AB
Holly Blazina – AB
John Welsh & Los Valientes – BC
Kelly Bado – MB
West of Mabou – SK
2018 WESTERN CANADIAN MUSIC AWARDS INDUSTRY NOMINEES
Audio Engineering Award
Ben Kaplan, FlyFantastic Productions – BC
Ryan Worsley, Echoplant Sound – BC
Shawn Cole, Lab Monkey Sound – BC
Sheldon Zaharko, Zed Productions – BC
Spencer Cheyne, OCL Studios – AB
Community Excellence Award (Sponsored by City of Kelowna)
Aakuluk Music – NV
Barney Bentall & The Cariboo Express – BC
Broadway Neighbourhood Centre, Just TV Program – MB
West End Cultural Centre – MB
Winnipeg Folk Festival – MB
Excellence in Visual Design
Bronwin Parks, Feisty Creative – BC
Jadyn Klassen – MB
Jared Robinson, Nebulus Entertainment – SK
Odelay! Graphic Design – SK
Roberta Landreth, Treehouse Design – MB
Impact in Artist Development (Sponsored by Creative BC)
Aakuluk Music – NV
Prairie Mix – MB
Stu Anderson, Mighty Cypress Talent – MB
The Feldman Agency – BC
Tonic Records – BC
Impact in Live Music (Sponsored by Music Canada Live)
Commodore Ballroom – BC
Interstellar Rodeo – AB
The Gateway – AB
West End Cultural Centre – MB
Winnipeg Folk Festival – MB
Impact in Music Marketing
Aakuluk Music – NV
Casadie Pederson, MainStage Management & Consulting – AB
Pipe & Hat Music Group – MB
Susan Busse, Susan Busse PR – SK
West End Cultural Centre – MB
2017 Heritage Award
Terry Jacks – BC
2017 Kevin Walters Industry Builder Award
Allen Reid – BC