Posted On: Nov. 15, 2021
Back to Live Featured Artist - Marie-Clo x éemi
Marie-Clo x éemi is the fruit of an improbable collaboration between two bilingual artists separated by 3000 km of forests, rivers, mountains and prairies. Two unique artistic voices, one with a sombre pen and a clear tone, the other powerful and engaged, unite creating an intimate and surrealist electro-pop album with strong feminist and environmental messages which elicit empathy for nature from their listeners.
Listen to Marie-Clo x éemi on Spotify.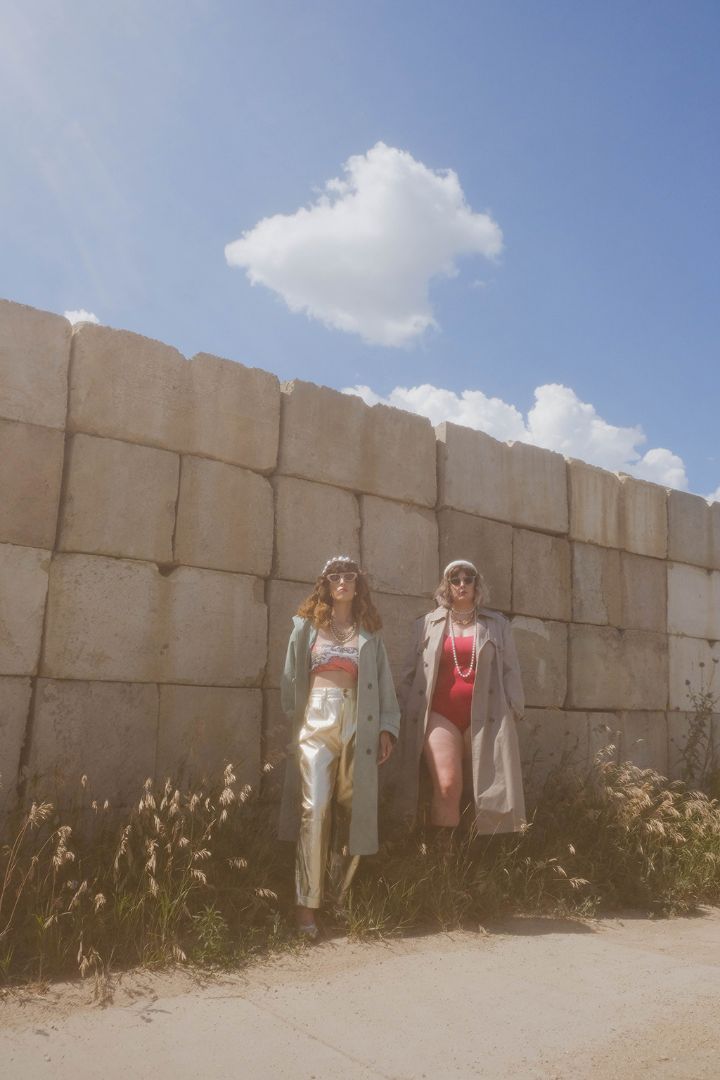 The two met while competing against one another during the TFO's Planète BRBR contest. They both made it to finals and decided to work together and split part of the prize instead of competing against each other. Strengthened by this experience, both artists decided to pursue their solo projects independently for a few years, all the while continuing to nurture the forest of collaboration that they had just planted.
In 2022, the collaboration's forest is mature and vibrant. Marie-Clo and éemi enter a symbiotic, intimate and bold electro pop project. Ultimately, Marie-Clo x éemi is living proof that women in the music industry and in life need not be pitted against each other. The result is more organic and sustainable when they collaborate on their own terms.
What is the coolest show you have ever played?
éemi: The coolest show I have ever played was with my band BILLY BEAN at Ness Creek Music Festival (SK). Something about Ness Creek is pure magic and rocking out on stage with Byrun was so fun, the crowd was super into it.
Marie-Clo's coolest show was the RBC BluesFest Drive-In BluesFest (ON). There were 100's of cars honking instead of clapping, it was almost post-apocalyptic and such a unique experience.
How have you kept yourself happy and healthy in the last two years?
Both éemi and Marie-Clo recharge in nature. It's no surprise éemi has spent a lot of time at Ness Creek, which is a festival site and a campsite out in some remote woods. You could say she's a bit obsessed. Since the start of the pandemic she has been to the site 5 times. Marie-Clo has gone on many RV trips across Canada during the pandemic. It's something she was able to do that didn't involve much contact but still allowed her to travel and to be in nature.
How are you preparing for the return of live music?
Both artists got vaccinated in order to get ready for the return to live. They've also maintained their creativity by collaborating together and coordinating multiple cross-country residencies. It was a bit tricky during the pandemic, but surprisingly easy to follow COVID safety mesures when the residencies were in the middle of the forest, or in a remote part of the prairies.

What is the best part of your life that isn't music-related?
Marie-Clo loves van life, her pups, her partner, and living in nature.
éemi loves the warmth of her active francophone community, her dog, and road trips.

What is the best advice you have been given in the music business?
Marie-Clo says the best advice she ever received was "never judge your audience".
éemi says the one thing that changed how she views her role as a musician is "it's not about the note you hit, it's about the emotion you convey".