Posted On: Aug. 9, 2016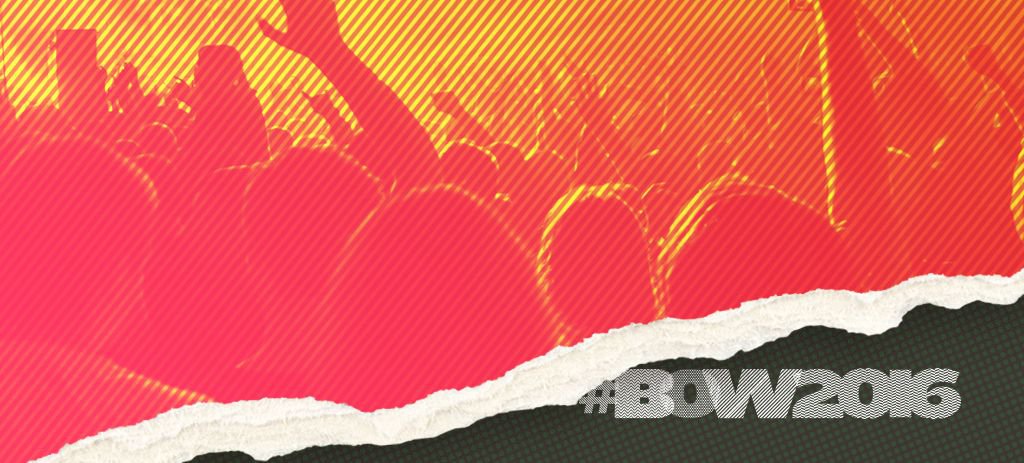 August 9, 2016, Regina, SK: The Western Canadian Music Alliance is pleased to announce the musical line-up for the 2016 BreakOut West Festival, taking place at eleven different venues in Regina, during BreakOut West, October 13-16, 2016. The BreakOut West Festival features the best in emerging talent from western Canada, in every genre from pop to country, rock to hip hop, jazz, classical, children's music and everything in between. New in 2016, many of the genre-specific artistic Western Canadian Music Awards will be presented at the festival showcases, amping up the excitement throughout the weekend. A full schedule of the event will be available soon on BreakOut West's website.

2016 BreakOut West Festival Artists:

36? (AB)
Al Muirhead (AB)
Alex Runions (SK)
Andino Suns (SK)
Ariane Mahrke Lemire (AB)
Arlo Maverick (AB)
Belle Plaine (SK)
Blake Berglund (SK)
David Morin (BC)
DGS Samurai Champs (SK)
Digawolf (NT)
Diyet (YT)
Don Amero (MB)
Double Fuzz (AB)
Ghost Twin (MB)
Hot Panda (BC)
Jay Semko (SK)
Jeffery Straker (SK)
Jesse Roper (BC)
Jocelyne Baribeau (MB)
Joe Nolan (AB)
John Oliver (BC)
JP Hoe (MB)
Justin Lacroix Band (MB)
Kaylee Johnston (BC)
Lexi Strate (AB)
Maddison Krebs (AB)
Megan Nash (SK)
Micah Visser (MB)
Michael Bernard Fitzgerald (AB)
Mike Edel (BC)
Mise en Scene (MB)
Mu (BC)
Nadia Gaudet & Jason Burnstick (MB) *
Old Cabin (YT)
Paolo Bortolussi (BC)
Poor Nameless Boy (SK)
Quinton Blair (MB)
Rah Rah (SK)
Rob Dickson (YT)
Rosie & The Riveters (SK)
Ryan McNally (YT)
Sam Weber (BC)
Slow Leaves (MB)
Speed Control (YT)
Striker (AB)
Surf Dads (SK)
The Dead South (SK)
The Mariachi Ghost (MB)
The Matinée (BC)
The Proud Sons (MB)
The Sumner Brothers (BC)
Third Ion (SK)
William Prince (MB)
Youngblood (BC)

Festival Wristbands can be purchased locally in Regina, as of August 10th at X-Ray Records, Rebellion Brewing, and Coda Clothing; which grant access to any and all of the festival shows, pending venue capacity. Full delegate registration to the BreakOut West Conference (which includes festival and awards show access) is also available now at www.breakoutwest.ca, and reservations are available at this year's host hotel, the Double Tree by Hilton. Individual tickets to the Western Canadian Music Awards Show on October 13 may be purchased separately through Casino Regina.

About BreakOut West:
BreakOut West is an annual gathering to celebrate, develop and support the best of western Canadian music, taking place this year in Regina, SK from October 13-16, 2016. Western Canadian artists are developing sustainable careers of national and international scope, and BreakOut West is an integral component of this development. Through the annual conference and festival, industry from around the world and western Canadian artists are given the opportunity to discover, educate, network and grow. The weekend kicks off with the Western Canadian Music Awards, showcasing the talent contained in the "left half" of Canada, and continues with the conference and publicly accessible showcases throughout the weekend.

Use hashtag #BOW2016 when tweeting about BreakOut West and join in the conversation!

More exciting announcements are coming soon from BreakOut West, including keynote speaker announcements, conference information and more! Visit www.BreakOutWest.ca for the latest information.

- 30 -

Please contact Joelle May for all press requests, interviews, event accreditation and more information.