Posted On: Apr. 13, 2021
BREAKOUT WEST
CONFERENCE AND FESTIVAL SET FOR
FEBRUARY 2 TO 6, 2022 IN WINNIPEG, MANITOBA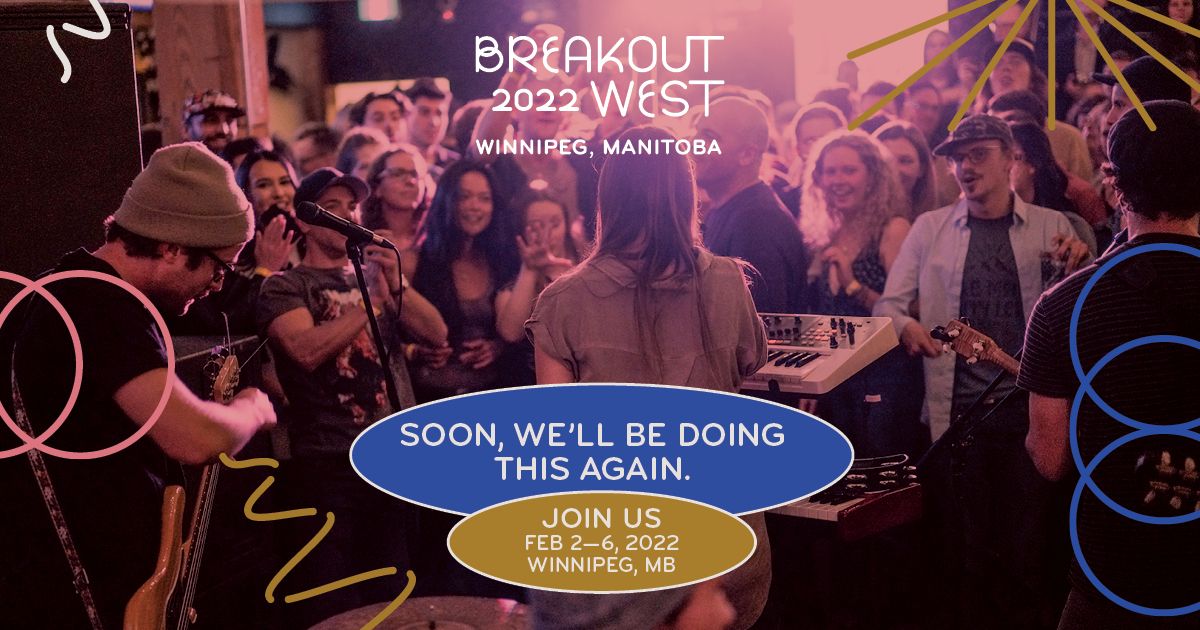 WESTERN CANADIAN MUSIC AWARDS
WINNERS TO BE ANNOUNCED OCTOBER 2021
ARTIST SHOWCASE SUBMISSIONS OPEN NOW UNTIL JUNE 10
EARLY BIRD PRICING ON UNTIL APRIL 30 - REGISTER HERE
The Western Canadian Music Alliance (WCMA), announce details for the next BreakOut West festival and conference, moving the previously announced fall 2021 dates to February 2022.  While the world continues to navigate new ways of living, the music continues to play. Following a successful online delivery of their 2020 festival, BreakOut West are thrilled to announce that the next conference and festival will take place from February 2 through February 6, 2022 in the host city of Winnipeg, Manitoba.
The winners of the Western Canadian Music Awards will be announced this October, with nominee info to be released soon. Registration and showcase submission for the 2022 BreakOut West Festival are open now. Participants can enjoy early bird pricing until April 30, and the deadline for submissions is June 10. Access the festival registration portal here. Submissions for the festival are open to artists from all western Provinces and Territories as well as Nunavut Territory.
"While we enjoyed bringing BreakOut West Home Edition to musicians, industry and fans remotely in 2020, we are missing everyone's faces and have made this decision to move the live event," says BreakOut West Executive Director, Robyn Stewart. "We believe, to the best of our predictions, that this will allow us to safely come together to celebrate, develop and discover live music again. We look forward to everyone joining us in February 2022." 
In response to the ongoing circumstances surrounding COVID-19, BOW 2020 made shifted to a virtual event, bringing attendees a 15-day immersive online experience that provided artists and industry the opportunity to expand their careers through informative keynotes and panel discussions, mentorship meetings, networking mixers, wellness moments and new music discovery.
"Our winters dazzle, with bright blue skies, fresh snow and so many outdoor activities and venues to enjoy. It's the perfect backdrop for the 2022 BreakOut West Canadian Music Festival and Conference," says Dayna Spiring, President & CEO of Economic Development Winnipeg. "We're excited to welcome the industry, celebrate amazing music and talent right here in the heart of the country—the cultural cradle of Canada."
The festival's city host of Winnipeg is supported by Province of Manitoba, Tourism Winnipeg, and City of Winnipeg, as well as local partners, Manitoba Film and Music, Torque Brewing, and more to come. Partner venues include Rachel Brown Theatre, The Good Will Social Club, Tallest Poppy, The Handsome Daughter, West End Cultural Centre, The Royal Albert Arms, Pyramid Cabaret, Times Changed High and Lonesome, and Kings Head. A hospitality favourite of the city, Fairmont Winnipeg has been announced as the festival host hotel – learn about their accommodations and offerings here.
As BreakOut West bounces back to share more sights and sounds in beautiful Winnipeg, Manitoba in 2022, stay tuned for more details around member voting and the Western Canadian Music Awards nominee announcement to come in the months ahead. 
About the Western Canadian Music Alliance / BreakOut West:       
The Western Canadian Music Alliance is a pan western organization created by the Music Industry Associations (MIA's) of British Columbia, Alberta, Saskatchewan, Manitoba, The Northwest Territories, the Yukon Territory, to promote and celebrate western Canadian music. WCMA, with the financial support of each provincial and territorial government partner, FACTOR, the Government of Canada and of Canada's private radio broadcasters, WCMA annually hosts their core artist and industry development event, BreakOut West. The event is held in a different western Canadian city on a rotational basis and is the prime music industry event in western Canada. BreakOut West 2022 will be held February 2-6, in Winnipeg, MB, including a four-day music conference, a three-night multi-genre music festival and special events. The 2021 Western Canadian Music Awards and Industry Awards will be announced in October 2021.
            
WCMA's head office is in Winnipeg. We recognize the ancestral lands, from Treaty One Territory, the original lands of Anishinaabeg, Cree, Oji-Cree, Dakota, and Dene peoples, and the homeland of the Métis Nation.