Posted On: Feb. 28, 2020
Folk Alliance 2020 Recap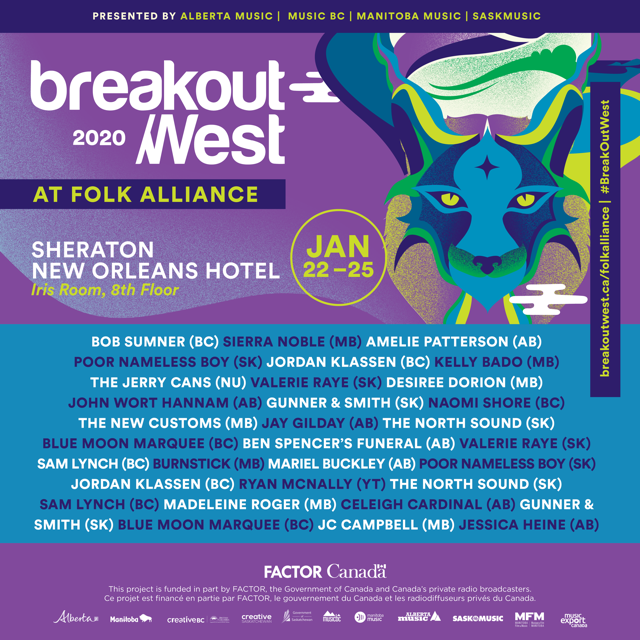 Congratulations to Folk Alliance International on a fantastic 40th festival! This year's festival in New Orleans was a wild ride. The 2019 festival saw artists and industry alike have their flights to Montreal delayed due to snowfall, but this year there was not a frozen flake in sight. With sunny skies and Mardis Gras on the horizon, New Orleans was the perfect host for the festival and the festival site was conveniently placed right next to historic Bourbon Street.
Burnstick (MB)
The 2020 Indigenous Music Summit was also a rousing success with incredible performances by Indigenous artists from around the world including a huge contingent of western Canadian artists including Snotty Nose Rez Kids (BC), Burnstick (AB), Bebe Buckskin (AB) and many more.
The Jerry Cans (NV)
Congratutations to all eight of the official showcasing artists from western Canada including The Jerry Cans (NV), Jay Gilday (AB), and Mariel Buckley (AB).
Kelly Bado (MB)
The BreakOut West room returned with dozens of performances by incredible artists from across our home region and one excellent margarita mixer! Thanks to our partner Music Industry Associations Alberta Music, Music BC, Sask Music, and Manitoba Music for organizing the room and keeping the margaritas flowing.