Posted On: Jul. 23, 2018
BREAKOUT WEST KICKS OFF
WITH ROCKIN' CONCERT HEADLINED BY
THE WILD!
KICK-OFF CONCERT TO FEATURE PERFORMANCES LITTLE DESTROYER AND LIKE A MOTORCYCLE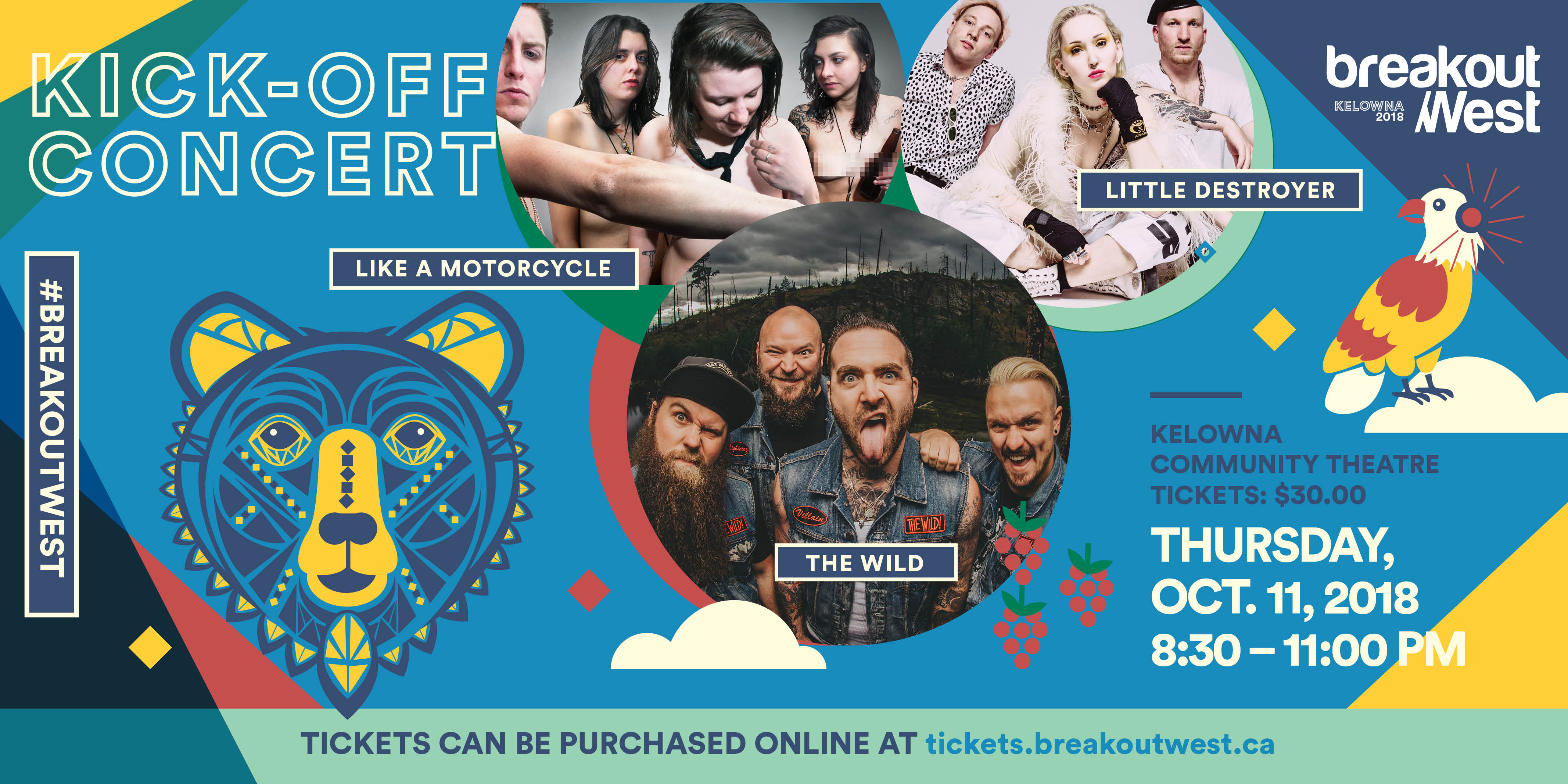 TICKETS AVAILABLE NOW
Toronto, ON – July 23, 2018 – BreakOut West gets underway on Thursday, October 11th in Kelowna, BC, and to kick-off the festival portion of the weekend, audiences will be treated to an evening full of rock and roll! That night, Kelowna Community Theatre will play host to the first showcase concert, headlined by Kelowna's own rock'n'roll outlaws, The Wild!, and featuring Vancouver three-piece, Little Destroyer, Nova Scotia punk-rockers, Like A Motorcycle. Tickets for the kick off concert are on sale now at tickets.breakoutwest.ca/e/bow-festival
The Wild! is thrilled to be returning to Kelowna Community Theatre, where they previously sold out the room for the launch of their 2017 release, Wild At Heart. Shooting guns, setting fires and shaking shacks with half-stacks make for the type of nights that separate the men from the boys; and The Wild! from the other 99% of what some people are calling rock'n'roll these days. Anybody who's ever been told to turn it down, clean it up or to go home lives inside of what the God Damn Wild Boys are all about. Driven by long, hard nights, the love of playing music, rural roots, and a no-bullshit mentality, The Wild! play the soundtrack for freedom-seeking renegades and real-deal rock'n'rollers alike. "Breakout West is like the CMW of Western Canada," says The Wild! lead vocalist/lead guitarist, Dylan Villain. "What a great way to remind the industry that there are so many great bands outside of Ontario! And what better way than to have the 'Best in the West', when it comes to rock, bring it all home to our hometown of Kelowna at the Kelowna Community Theatre this October! See you at the rock show!"
"Having the opportunity this past year, to represent Canada in the global creative market through the incredible opportunities provided by BreakOut West and bad-asses like Robyn Stewart, truly goes beyond just career expanding," Little Destroyer comments. "BOW is an entity full of heart and passion and most important, love – for music, the artists and industry. We have been bolstered in all ways thanks to BOW and are truly honoured and excited to be part of this year's home-turf BOW festival!" Like blaring synth across the ruins of some dystopian landscape, Little Destroyer rebel against the quiet with heavy electronics, guitars and dissonant grunge pop anthems. Catchy, loud and energetic as hell, this three-piece will either leave you thrashing, dancing or simply standing in awe.
With a view to kicking the hell out of any audience in their path, punk rockers Like A Motorcycle have spent the last two years cultivating a sound and reputation that has commanded attention from audiences and industry alike on stages across North America and Europe. The band is being welcomed to BreakOut West this year as part of the fest's East Meets West partnership with the ECMA. "Oh, buhds, we're right friggin' stoked for our showcases at Break Out West!" exclaims Like A Motorcycle. "We've wanted to get our arses out to the West Coast for years: as if playing BOW isn't awesome enough, the acceptance and subsequent support we're receiving has opened the door to record our sophomore album with producer, Howard Redekopp (Tegan & Sara, Mother Mother), in Vancouver immediately after the festival; gettin' two birds stoned at once, pal! We can't wait to be the underdressed, over-inebriated weirdos stinkin' up the kickoff party stage.
P.S. if someone doesn't bring us Nanimo bars we're gonna' friggin' lose it. We've only ever had 'em from Horton's."
Tickets to the Kick Off Concert can be purchased online in advance, or at the Kelowna Community Theatre box office, one hour before showtime, on the day of the show. Kick-Off Concert tickets, and festival wristbands, are available now at tickets.breakoutwest.ca. Festival-goers can redeem their online purchase of wristbands, prior to the festival, at Milkcrate Records, and Tourism Kelowna Visitors Centre.
Information about the festival and conference – including the second wave of festival performers, which has now been announced – can be found at breakoutwest.ca and on the BreakOut West 2018 mobile event app, powered by GoLive. Available at Apple and Google Play, the app will be the place to catch announcements as they roll out through the summer. Search BreakOut West 2018 to download the free app to get the latest updates and sneak peeks.
BreakOut West Kick Off Concert
Featuring The Wild!, Little Destroyer, Like A Motorcycle
Thursday, October 11, 2018
Kelowna Community Theatre
Doors: 7:30pm
Show: 8:30pm
Tickets: $30 + fees
tickets.breakoutwest.ca/e/bow-festival