Posted On: Sep. 25, 2018
Must Try Places to Eat in Kelowna
---
We know you came for the music and networking, but we all gotta eat! So why not explore some of the best culinary offerings Kelowna has to offer.
Whether you're fancying a locally brewed cider, small bites in the sun, a glass of crisp wine, farm-to-table food, or craft cocktails, you'll find them all at some of the city's best venues.
Here are some must-try places for food and drinks in Kelowna:
Photo credit @bnabrewing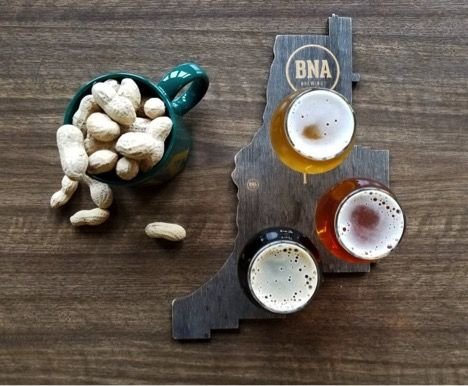 This Kelowna farm to table eatery focuses on using the best in Okanagan ingredients. A must-visit for any foodie, the restaurant offers up snazzy brunch, lunch, and dinner options, in a casual ambience. Did we mention the bartenders mix up a seriously good Caesar? Splurge for something extra special and garnish it with a burger, fried chicken, or a pancake and egg.
Address: 281 Lawrence Avenue, Kelowna
Sunset Organic Bistro at Summerhill Pyramid Winery
Summerhill Pyramid Winery is certified organic and biodynamic and offers unique experiences and tours of their great pyramid replica. Experience the stunning views and delicious culinary treats at their Organic Bistro where much of what you will see on your plate comes from their on-site gardens and the lake and mountain sunsets can't be beat
Address: 4870 Chute Lake Road, Kelowna
BNA Brewing Co. offers everything you could want when dining in downtown Kelowna: an independent craft brewery, an onsite Tasting Room, and an attached full-service restaurant. The beer is brewed on site and served straight to guests, both in the Tasting Room and the Eatery. Ask the bartender to pour you a glass of fun labels like 'Tipsy Canoe' and 'Don't Lose Your Dinosaur IPA'. Chef Best, who runs the eatery, designed the menu to cater to groups, with a diverse assortment of small and share plates like portobello 'fries' and fish tacos.
Address: 1250 Ellis St, Kelowna
If you like dining with a view, then visit Kelowna's Indigenous World Winery's restaurant, the Red Fox Club. With a diverse menu by Chef de Cuisine Andrea Callan, you can take your pick from dishes like stinging nettle dumplings with brown butter, asparagus, pea, and mint, to a Yarrow Meadows duck breast with fermented cabbage and jewelled wild rice.
Enjoy some equally delectable casual fare here, too, like the local cheeseboard. It doesn't disappoint after dinner when paired with a glass of the Okanagan's finest like the Simo Bordeaux Blend.
Address: 2218 Horizon Drive East, West Kelowna
This article was originally posted here.