Posted On: Apr 15, 2019
Safer Spaces On The Road
---
Since Fall of 2017, conversations about sexual harassment and sexual assault in the music industry have taken centre stage, generating interest from some artists and managers around their role in the creation of safer shows. What can touring artists do to promote safety in venues that they only touch down in briefly?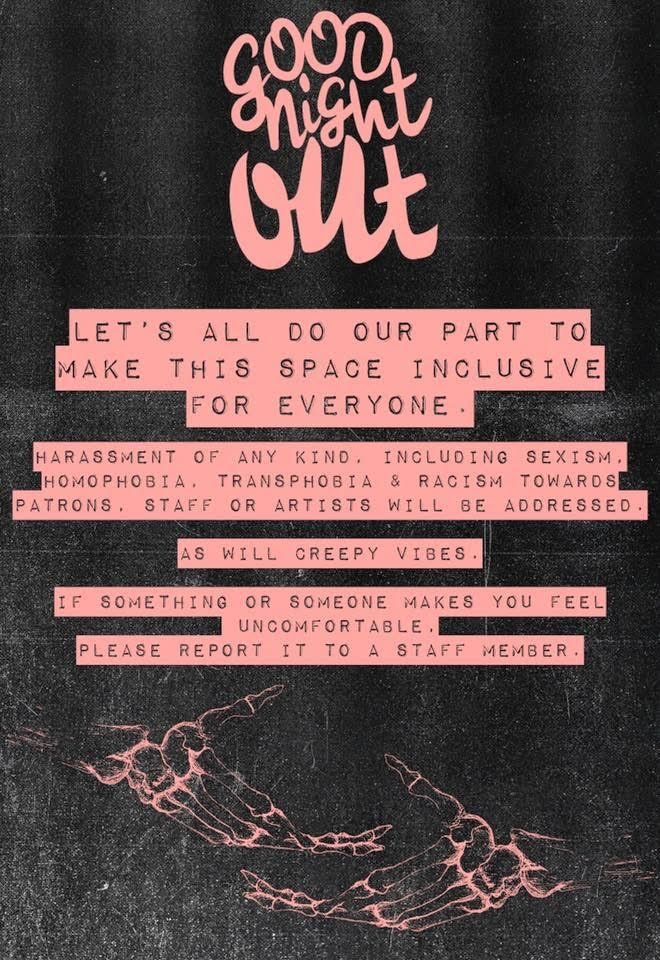 In October, as part of Break Out West in Kelowna, Good Night Out sat down (literally, there was a couch!) with Allie Sheldan from Little Destroyer to chat about safer spaces on the road. The session was standing room only, so in case you missed out, here is recap.
Before Leaving On Tour
Invest a little bit of time and resources upfront to create some materials for the tour. Some things you may want to consider creating are :
Safer space Posters / handbills / social media graphic - this is a simple, easy to understand statement about how you would like patrons to act while at your show. Consider working with a graphic designer to make it look on brand, and visually appealing.
Code of Conduct - this is a document which all crew on tour will sign in agreement with, and includes such behaviors as harassment.
Bystander intervention training for the tour crew - Find a local organization who can come in and teach all of the folks you will be touring with how to safely and effectively intervene when they witness the harassment or potential harm of others
Create a Safety Rider - Work with your management to prepare a short safety rider that will be sent to venues ahead of your show. It will include the poster you have created, and ask that copies of it be posted around the venue before doors open. Some other safety measures to consider adding are:
Accessible and Free Water

Request for diversity in their door staff. If they have women on their door team request that they are scheduled to work the night of your show.

Request that staff are briefed on how to navigate ID checks as well as having an accessible washroom for transgender and gender non-conforming folks.

The venue's social channels share your "safer space policy" before the show as well as notifying where patrons can seek out help.

Photo credit @Kelli Lane
While On Tour
Those with privilege, pull your weight! This especially goes for men in the industry. Work on building your skills so that you feel comfortable calling in / calling out unsafe or inappropriate behavior on tour when you see it. Women and other marginalized folks are often relied on to be the educators, interveners and sounding boards for this conversation, many times while also navigating their own experiences of harm. Help share in this work by connecting with the men around you when you see something that stands correcting.
Mentor better! Out with the archaic idea that some behaviors are O.K. due to the age old "Rock and Roll Cliche." As a performer, younger fans are often looking up to you, so help them see how important consent culture and safety at shows is.
Use your voice! As a performer and front person, I cannot stress enough the importance of using your voice to advocate for safer spaces and fostering an environment of harm reduction, inclusivity and appropriate conduct—while on and off the stage. People will listen to you, period. You have the power to potentially 'get through' to someone who's never previously been able to hear or understand these concepts—what does a good night out for everyone mean? It's also the opportunity to make sure people who potentially feel vulnerable know they are seen and are not alone. Never underestimate the power of open constructive positive dialogue!
Does this mean giving a speech onstage? Stopping a song if you see unacceptable behaviour in the audience? Not playing a show if there are problematic people working at the venue or in one of the other bands? Boycotting certain venues? Having strong political lyrics? Kicking someone off your team?
It's going to look different for everyone! But it's important to define and refine how you are activated to ensure you have a sustainable process. All of the tools Good Night Out provides are invaluable - putting a structure in place at the outset of a tour and having the expectations explicitly clear, to your team, venues and audience can make a HUGE difference. But remember, people look to the band for cues—problematic or ignorant behaviour will trickle down to everyone, think of it this way: the fish rots from the head. Don't be a rotting fish head! Understand you have a certain sway and power, accept it and use your voice and actions to be a part of changing the nightlife landscape.
Good Night Out is a BC based non-profit that helps the music industry build capacity in preventing sexual harassment and assault. To learn more visit: www.goodnightoutvancouver.com.
Contributor Writers: Stacey Forrester and Allie Sheldan