Posted On: Sep. 15, 2023
SOCAN Song House at BreakOut West 2023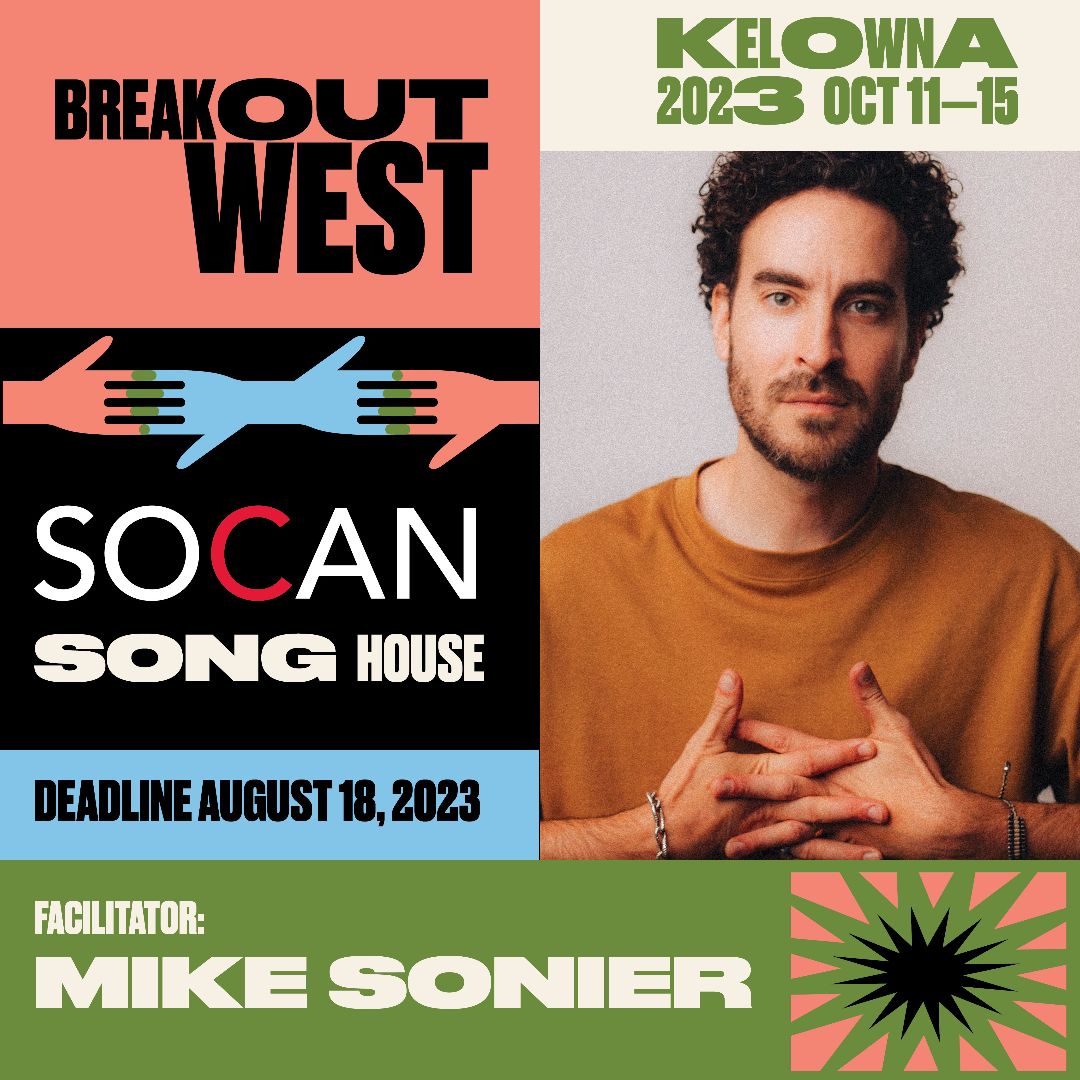 SOCAN Song House 2023 at BreakOut West will be hosted by Canadian songwriter, Mike Sonier.
Mike Sonier, the equal part producer and songwriter, has amassed over 2.5 billion streams globally, helping to craft songs with artists such as Noah Cyrus ("July"), Maggie Rogers ("Love You For A Long Time"), Julia Michaels ("Priest"), Ruth B. ("Always You."), and SOHN ("Riverbank"). He has also placed his production thumbprint on songs like the double platinum Weeknd and Kendrick Lamar single "Pray for Me" (from the Grammy-nominated Soundtrack, The Black Panther) and Dua Lipa's "Hotter Than Hell" & "Last Dance" from Dua Lipa's multi-platinum debut record.
Traversing the ropes of the industry under the tutelage of Grammy Award winning producers and writers, Sonier's invaluable artistic acumen and enthusiastic work ethic has led the Los Angeles based producer and writer to collaborations with Usher, Jessie Reyez, Mustafa The Poet, Lennon Stella, Ella Henderson, Donovan Woods, Savan Kotecha, Frank Dukes and Dan Wilson, among others.

Twelve songwriters will be selected to participate in this 2-day interactive songwriting workshop. Participants from Western Canada will be selected to participate based on their songwriting skill and will gain valuable insight into the craft of writing a hit song. This initiative aligns with SOCAN's Creative strategy to help members with craft development opportunities to reach new heights in their careers.
Meet the SOCAN Song House Artists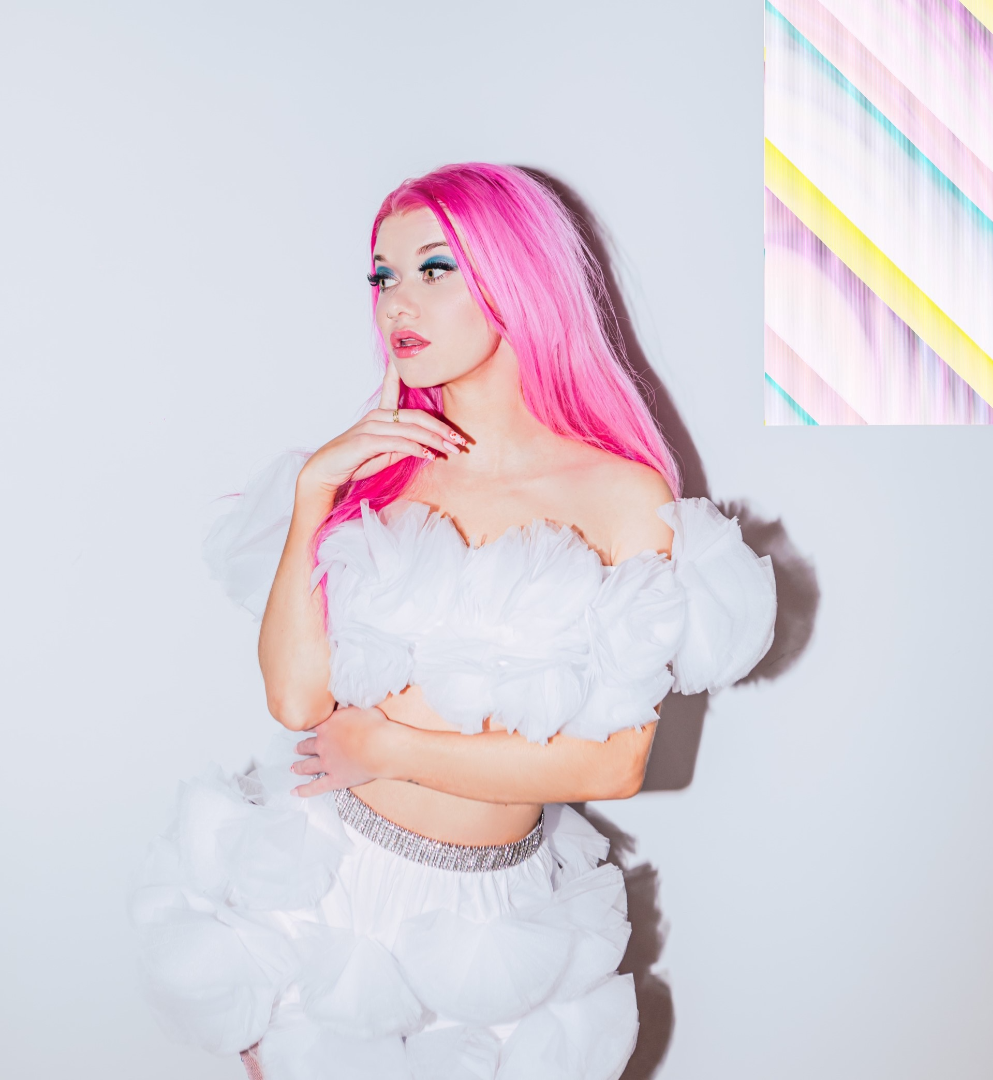 Terez
Terez is a fiercely creative artist whose talent knows no boundaries. Still, in her twenties, the Métis singer-songwriter is also a creative director, women's rights and LGBTQIA+ advocate, and ranks among the 2.1% of female music producers in the industry today. With nearly a lifetime of songwriting and performances under her belt, Terez has performed alongside Keith Urban, opened for Canadian artist Ria Mae, and was slated to perform alongside breakout Canadian artist RALPH in the spring of 2020. She has been commissioned to write songs for dozens of artists around the world, creative direct music videos and artist's brands in Toronto and Calgary, and much more. With her ability to write and perform most genres of music, Terez's own unique musical style blends pop and R&B with a punk edge and are complemented by her deep and meaningful lyrics and velvety yet powerful vocal tone.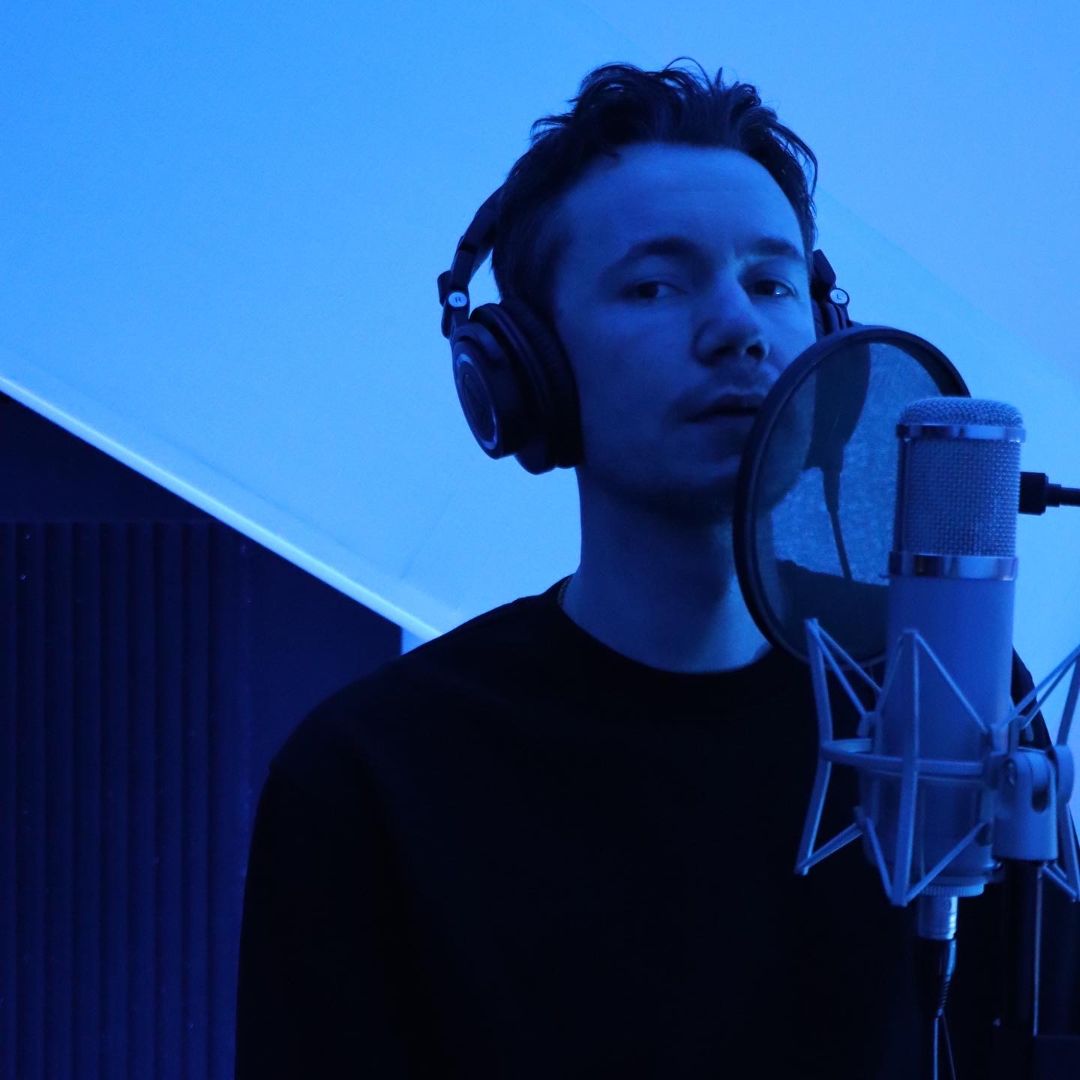 Shea Michael
Shea Michael is a songwriter, vocalist and mixing engineer from Calgary, Canada.
He released his first single in 2020 and has quickly made progress through consistent
releases and collaborations. His songs have been added to 7 different Spotify editorial
playlists and 3 Apple Music editorial playlists. Shea's mixing credits include notable
artists such as Trippie Redd, Merkules, bbno$, Connor Price, Royce Da 5'9", CORPSE,
Josh A, Curtis Waters, Harm Franklin, King Los, Bali Baby, Eazy Mac, KXNG Crooked,
Chills and many more. His songwriting credits include record labels such as Universal
Music Sweden, Warner Music Canada, Warner Chappell Germany and many
independent labels.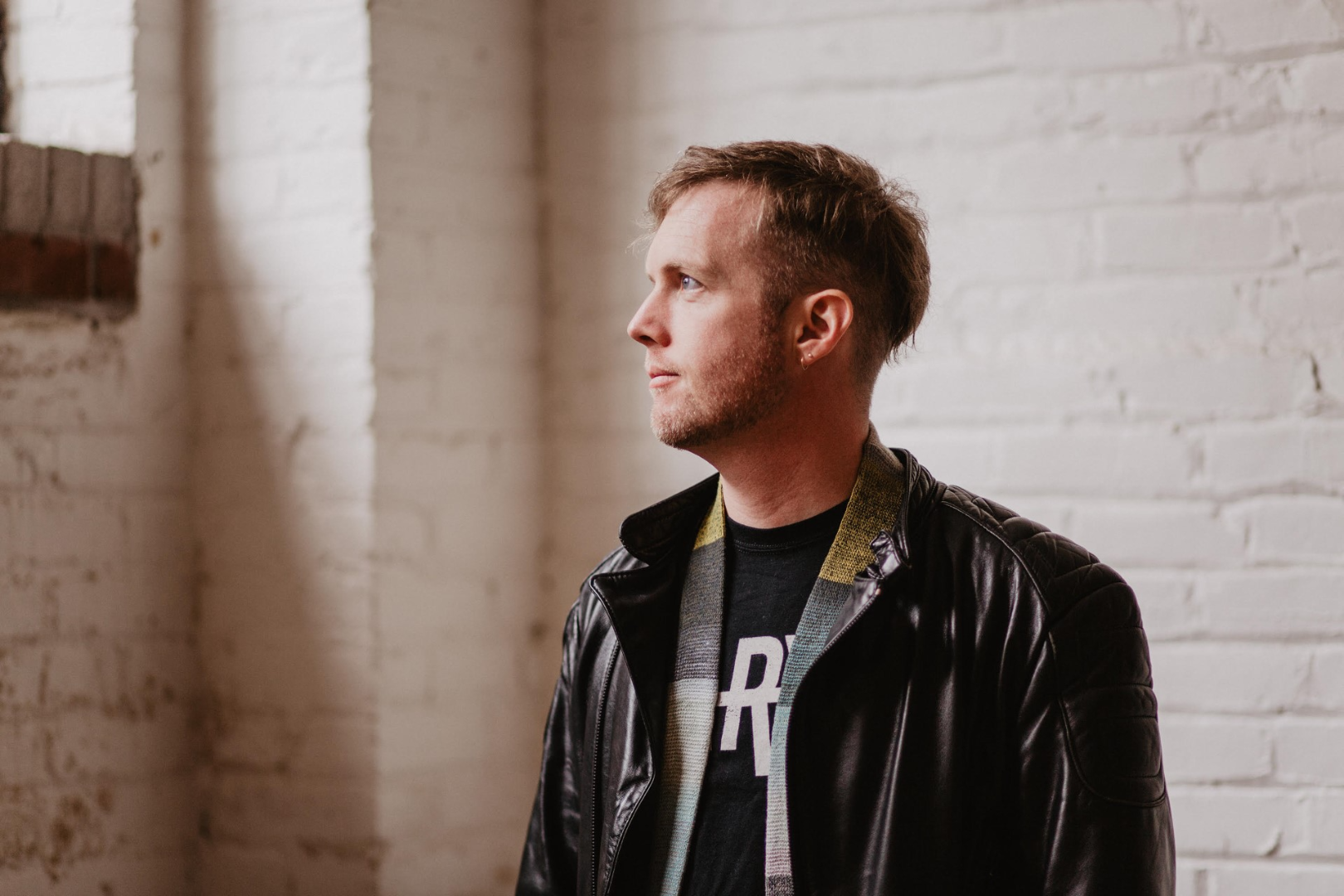 Mike Schlosser
Mike Schlosser is a Juno-nominated producer, songwriter, mixer, and multi-instrumentalist.
Recent work includes a collaboration with fellow Juno-nominated artist iamhill and sample-pack label BlackOctopus on an industry first sample-pack-and-accompanying-album entitled "Nobody Wants To Be My Friend". Schlosser also recently produced and co-wrote the album "Saga Boy" by Trinidadian-Canadian author and musician John Orpheus which Exclaim! listed as one of their most anticipated albums of 2021 and c-wrote/co-produced/co-mixed Gabriella Bee's single "Somebody New" which has streamed over 6 million times.
Mike is currently based in Edmonton, Canada and is published by Graham Stairs at Popguru.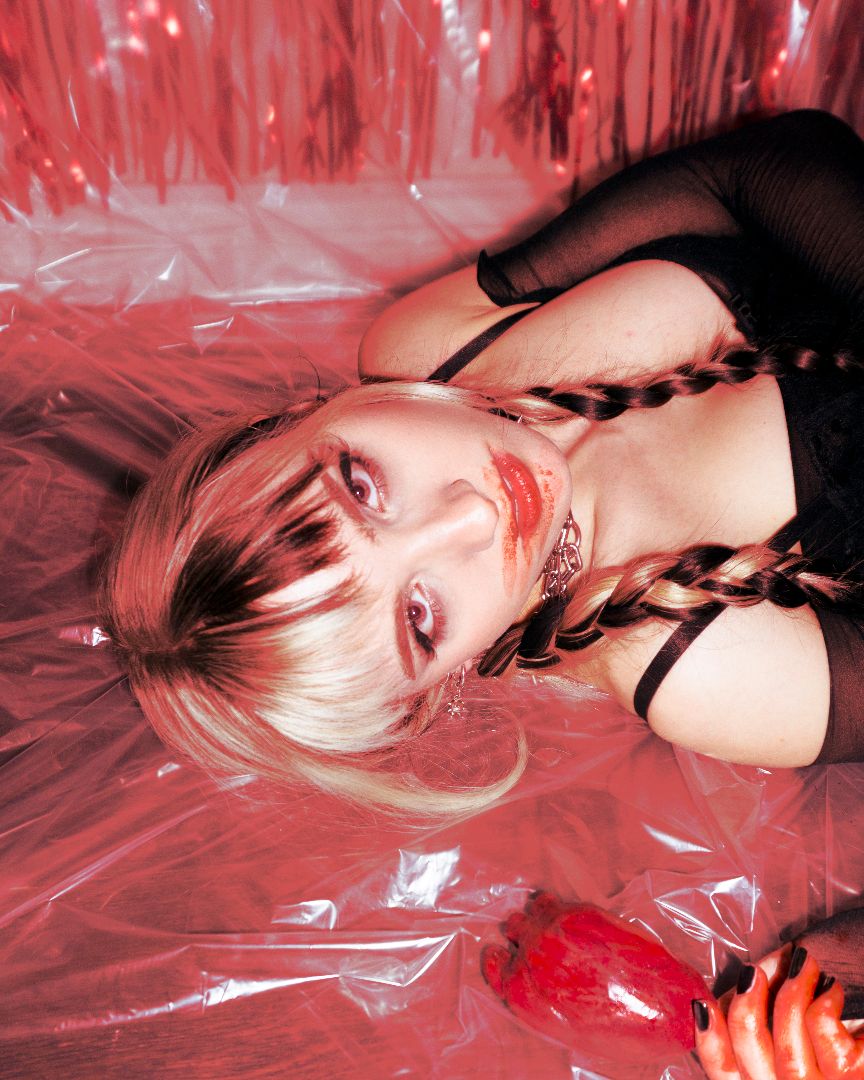 Madison Bell
With over 4 million career streams to date and songs featured on some of Spotify's top alternative editorial playlists, FKA Rayne is a growing force in the Canadian alternative scene. Her unique sound and writing style pairs elements from her prior stint as a pop musician alongside heavy, industrial and nu-metal influenced production and song structure. Creating adynamic noise that draws comparison to acts such as 'In this moment', 'Poppy', and 'Evanescence'.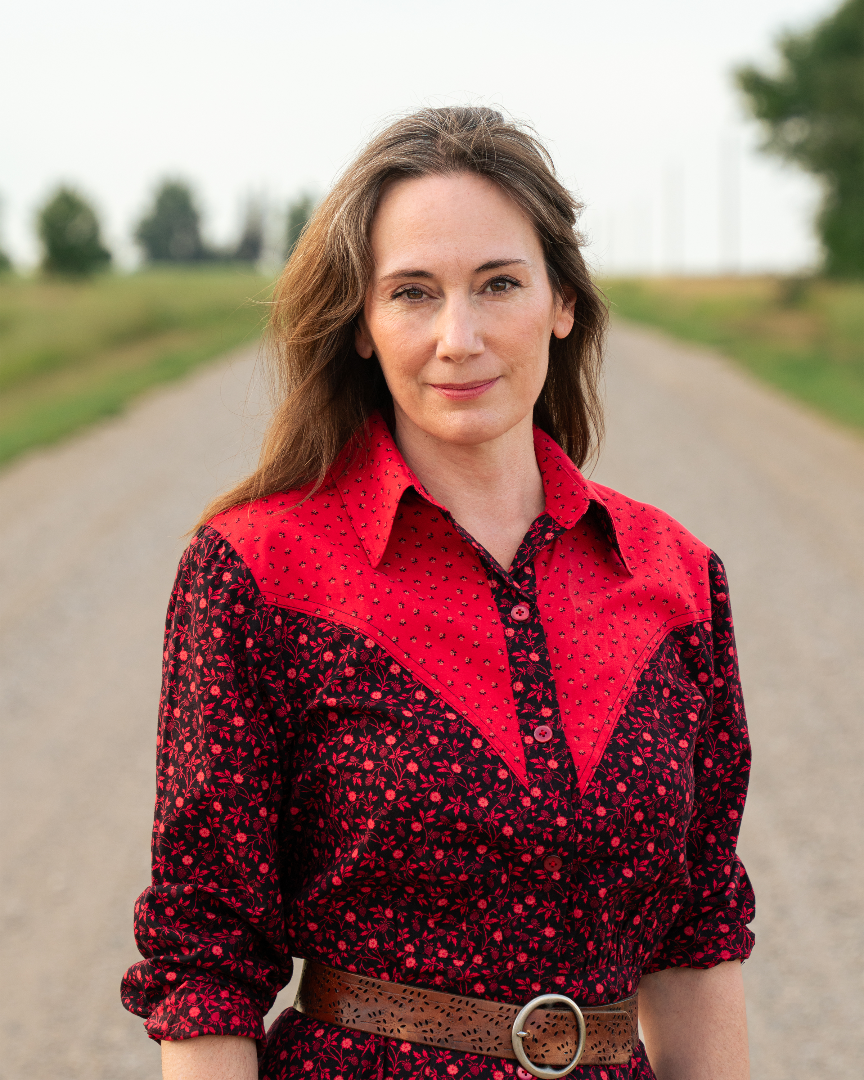 Ava Wild
As self described, Ava Wild creates 'Curvy Music'. Drawing influence from the likes of St. Vincent, Fionna Apple, Kate Bush and Norah Jones her soulful voice can be as sweet as honey and as real as the changing weather. Producing and recording from the bedroom she was literally born in, Ava Wild hold's space for authenticity and expression.
For her upcoming album "Properesque" Ava Wild set out to embrace her voice in new ways. Playing and recording most of the instruments herself, she wanted to become the artist she was looking to collaborate with! She writes about trying to make tea-drinking look as cool as smoking cigarettes and growing up seem as liberating as eating whatever you want for breakfast.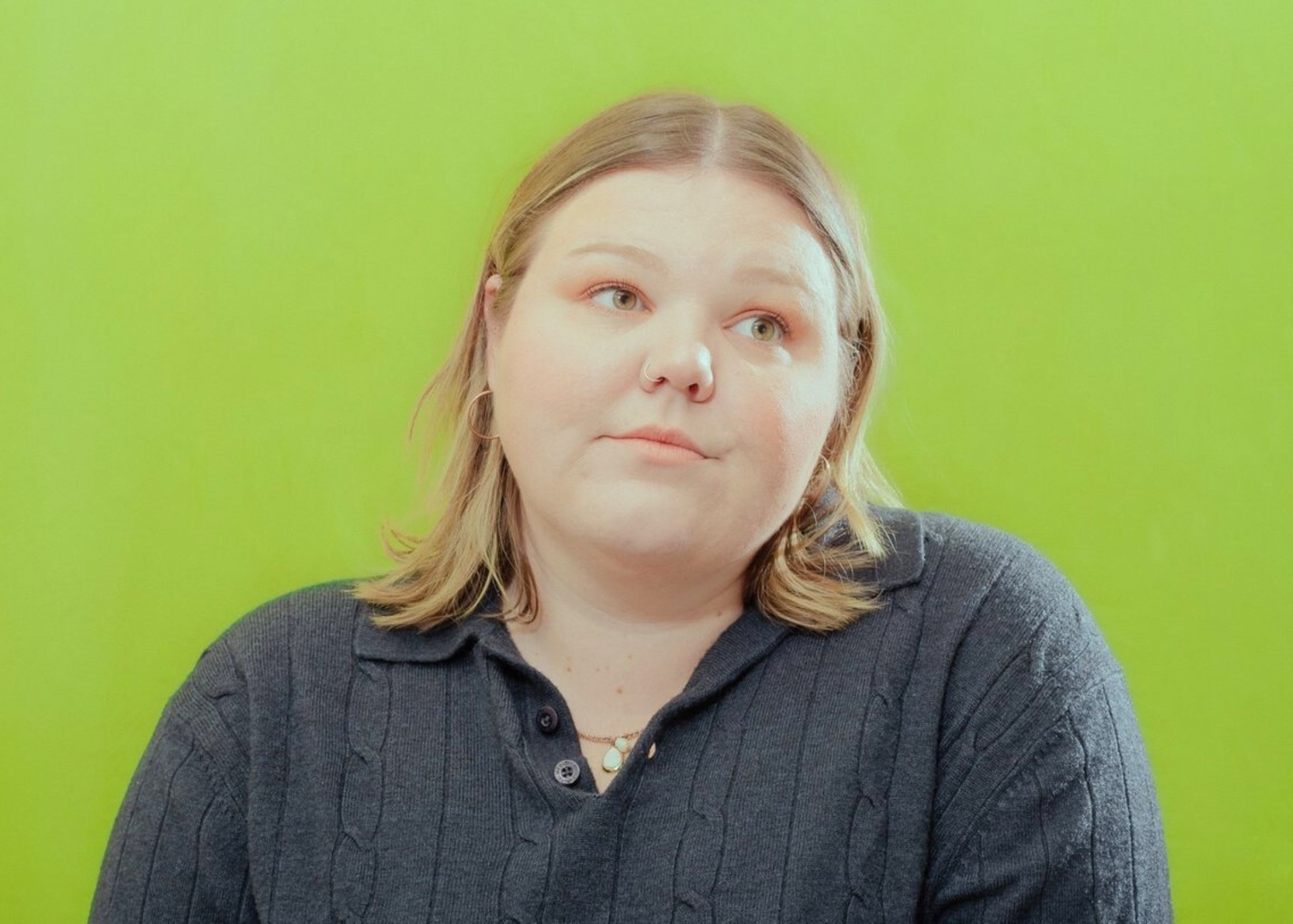 Lana Winterhalt
Multi-instrumentalist, composer, producer, and artist Lana Winterhalt delivers enigmatic and layered compositions to leave you feeling sparkly and weightless. Having released 8 projects in the past 8 years, signing with High Priestess Publishing, and participating in the Women in the Studio National Accelerator, Winterhalt uses her experience in the music industry to mentor others, forming the Good + Plenty Arts Collective in 2022 (GPAC), which focuses on providing more opportunities for women, 2Spirit, and non-binary Manitobans in music and music production. Within the first year of operation, GPAC has been nominated for a WCMA in Community Excellence, adding to Winterhalt's recent honours as the recipient of the Kevin Walters Songwriter of the Year Award in 2022, and Honour Roll nomination with Women In Music Canada in 2023.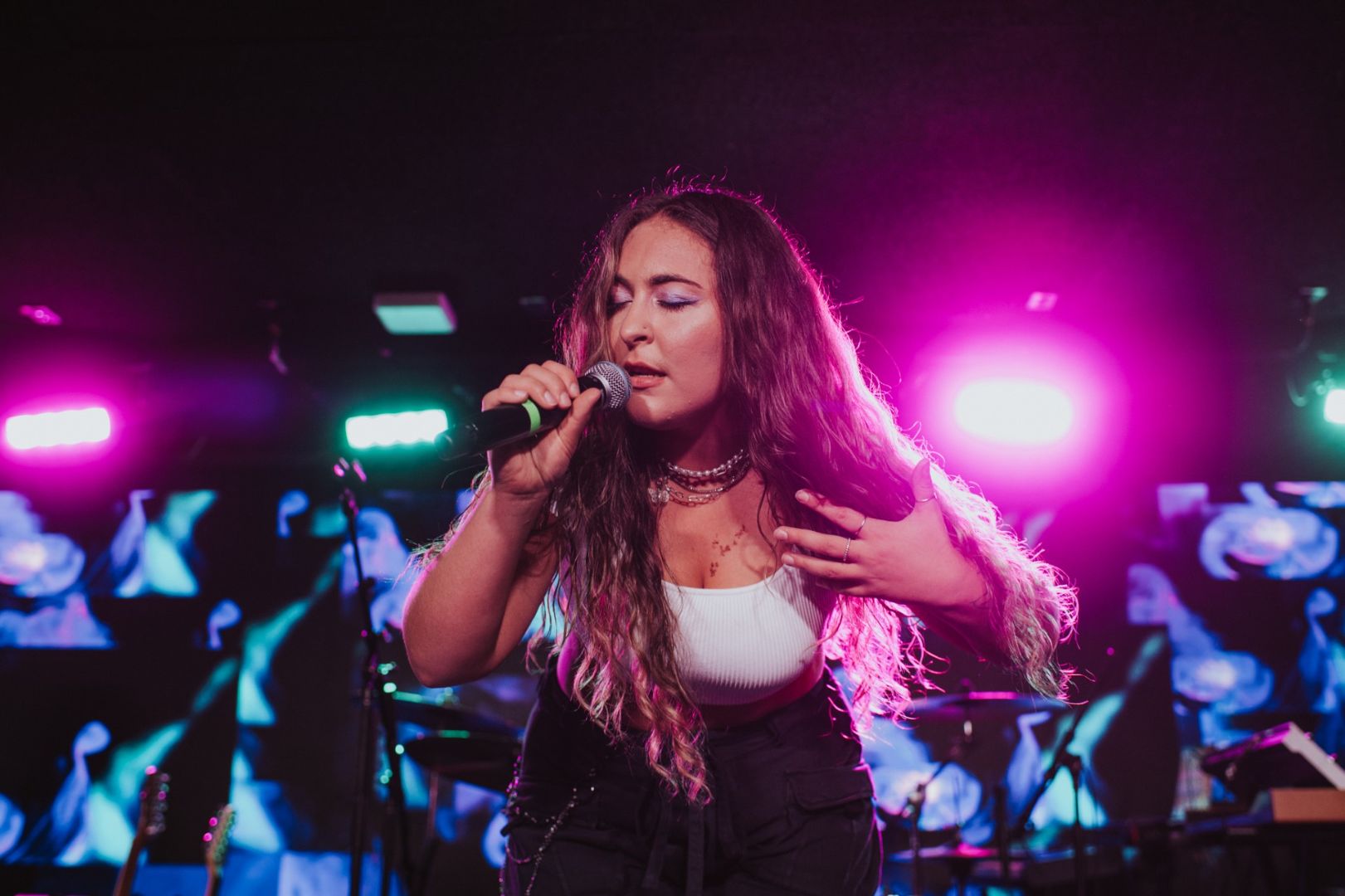 Jules
Rising Toronto singer-songwriter, Jules, is back and better than ever. While she captured the attention of the Canadian music industry in 2018 with her SOCAN and Top 40 chart-topping hit 'Before You Picked Her', she has honed her skills throughout the pandemic and is gearing up to release her most personal work yet. Jules is prepared to take the industry by storm with her indie-pop anthems brimming with raw emotion and bold production, she's a 2023 artist to watch!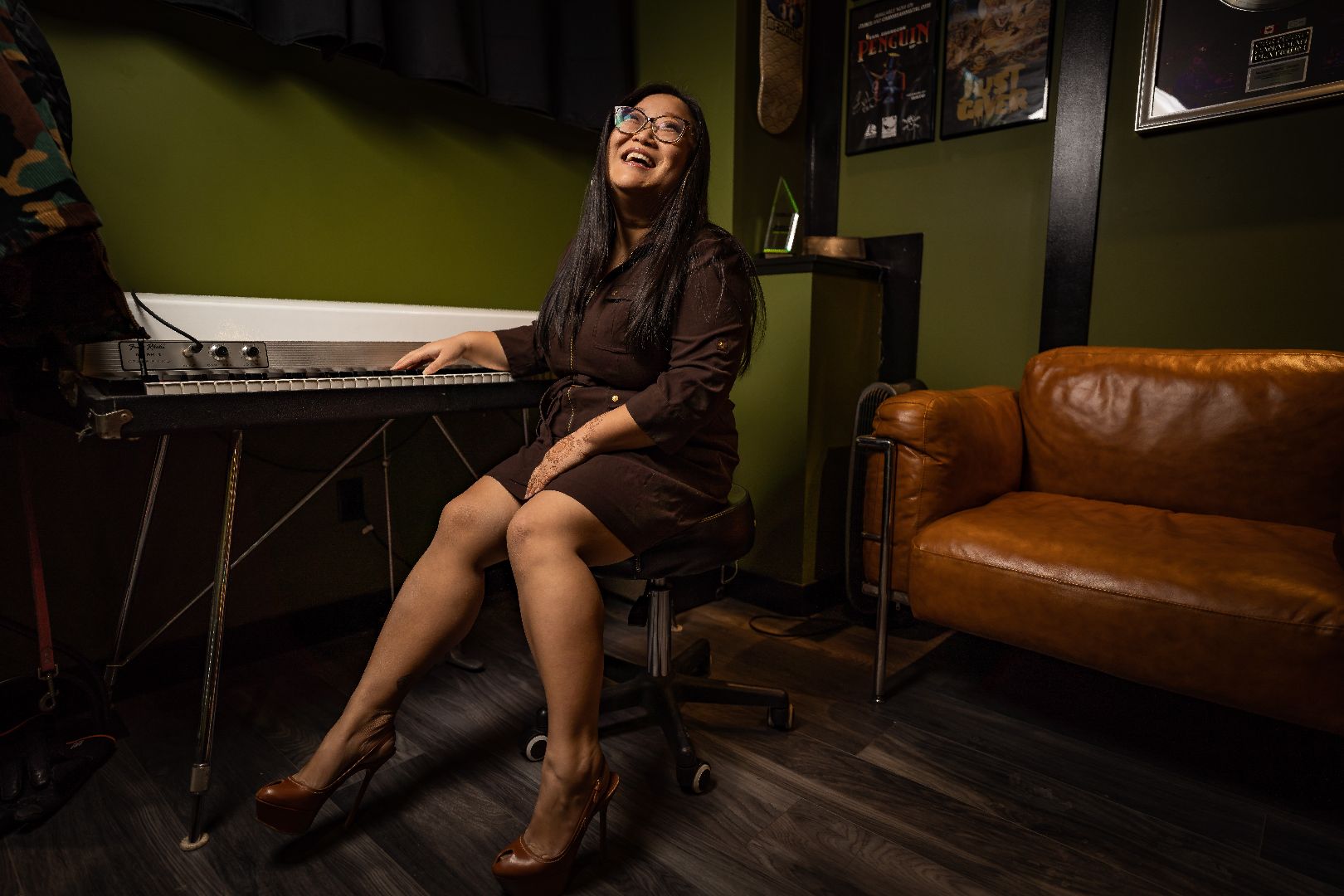 Jinting Zhao
Jinting is a songwriter, producer, vocalist, engineer and advocate - just about everything that doesn't involve her having to be the artist. She has crafted hooky pop, R&B, and EDM songs for artists all around the world that have received regular rotation on Top 40 radio. Her songs have been featured on CityTV, Crave, Amazon Prime, Rogers Sportsnet etc. Collaboration is her favourite activity, whether co-creating with several platinum-certified and Juno-nominated producers and artists or as a member of the elite global Songwrite Club.You can hear one of her latest co-creations - "Believe In Us" - at Tea G's festival showcase at Breakout West.
Based out of Up In Arms Studios in Edmonton, she is a producer and engineer, and has worked with some of Canada's finest talent in more technical capacities, including Jully Black, Melafrique, Sinzere, and K-Riz.
As a former Sony Music Taiwan artist, she will still sing on your records if you ask nicely. You might be able to find her somewhere in the back on 2023/24 releases from Sinzere, Arlo Maverick, K-Riz and Grace Chiang.
Equal parts left and right-brained, Jinting is passionate about music industry advocacy, and particularly for gender and racial equity and representation in production/engineering. She is a member of the Audio Engineering Society's Diversity Equity and Inclusion committee, and you can catch her speaking on gender representation at Breakout West's Equity in the Studio Panel.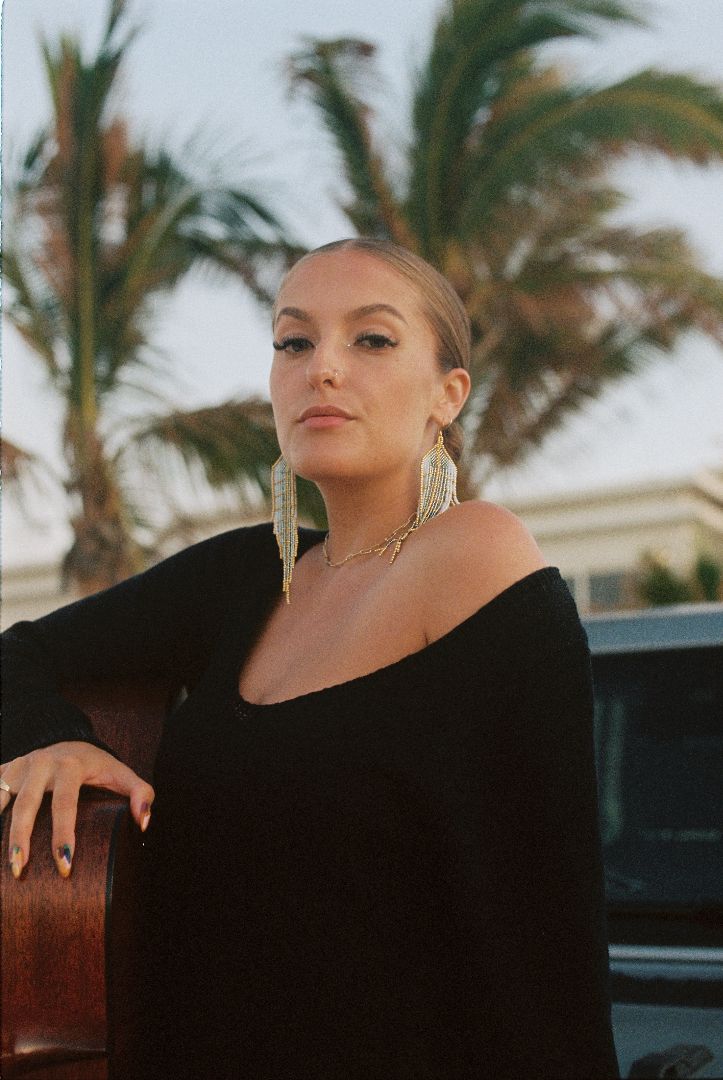 Ila Barker
With her soulful voice and lyrics that wash over the minds and hearts of audiences like waves, singer-songwriter Ila Barker is a force to be reckoned with. This Winnipeg based folk-soul artist of Anishinaabe and settler heritage, takes listeners on an introspective journey, inviting them to connect deeply with their own emotions. As an act of reciprocity, Ila mentors emerging Indigenous artists in AIRsessions, her self-curated music workshop series. Ila has taken the stage at the Winnipeg Folk Festival, Regina Folk Festival, sākihiwē festival, and opened for Jeremy Dutcher's sold out performance in PEI. After the release of her self-titled debut album (2013) Ila took time to mindfully refine her artistry, embarking on a creative evolution emerging with a self-determined sound. Her newly released album Fool Under Water (2022) is an honour song to her metamorphosis into the powerhouse she is today and a promise that the tide will turn.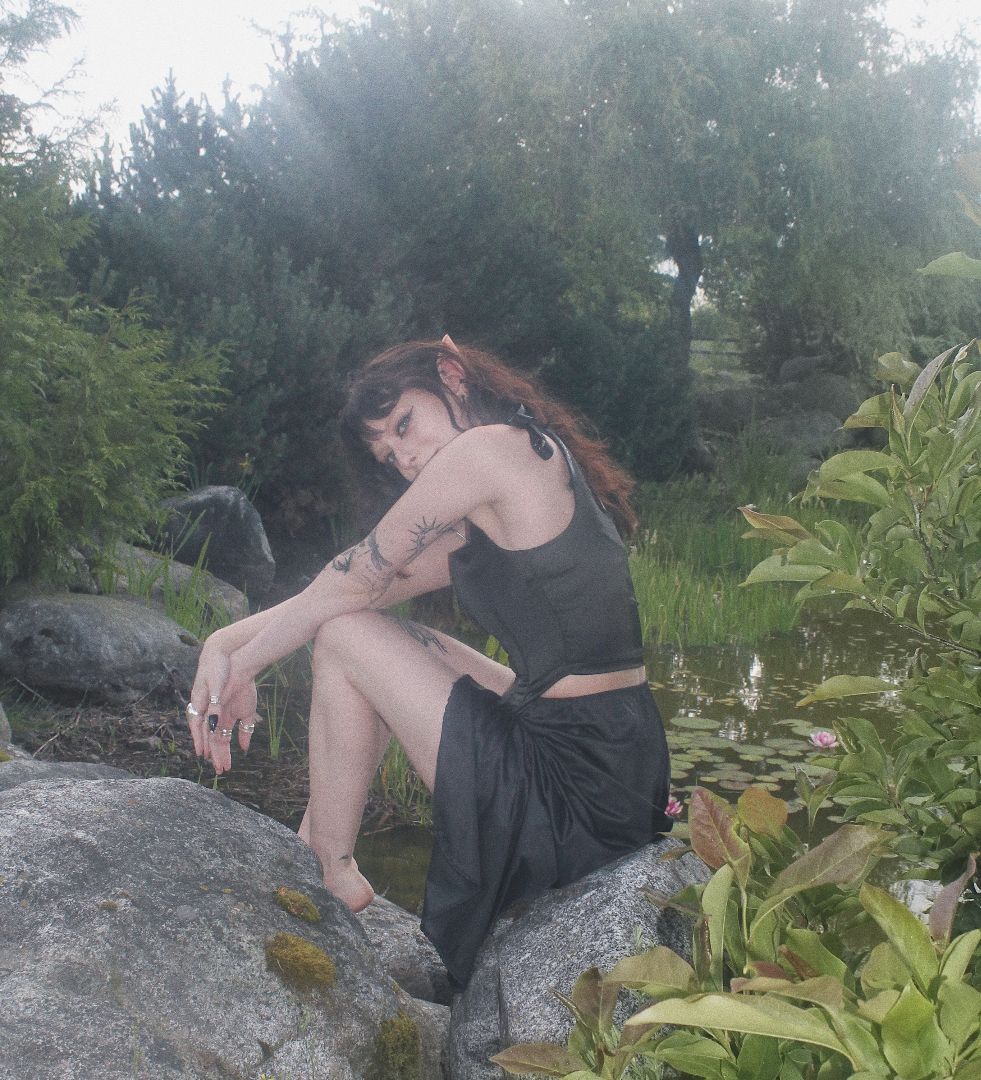 Emma Alves
Emma Alves is an ethereal songstress who experiments with many genres and styles. Though different, each record shares her sultry, honey-dipped vocals and aura-enhancing lyrics. Let Emma's music transport you into her fantasy world.
As a songwriter, Emma began writing whimsical songs about fairies. They wrote their debut album, 'Every Dreamer,' at just 15 years old. Now, she oversees all aspects of the creative process in the studio, finding magic in unique instrumentation styles using the QChord and Keytar in many of her performances.
She introduces an unfamiliar genre by pairing R&B with an array of styles like Rock, Alternative, and Electronic music. Influenced by artists such as Tame Impala, PinkPantheress, and Sabrina Claudio, she infuses heart, soul, and fantasia into her creations.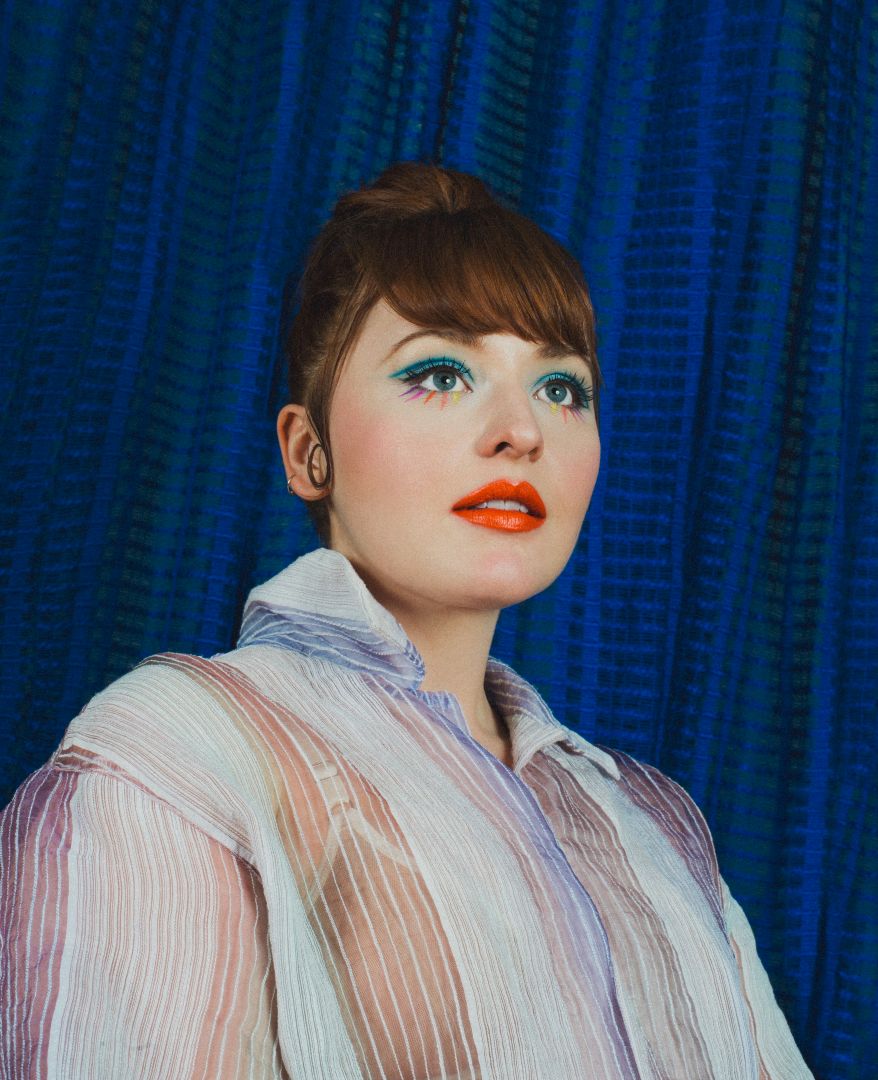 Alexandria Maillot
Breathing new life into the Canadian music landscape, Vancouver Island "swoon rock" artist, Maillot, takes listeners on a journey through lava-lamp-lit bedrooms and rain-soaked roads. Spinning sonic motifs of acoustic wonder and electric drive, Maillot's sound is familiar yet refreshing - a favourite transistor radio playing classic vibes with a contemporary twist. An active artist since the age of seven, early accolades included performing with Jann Arden at the Royal Ontario Museum, appearing on the Oprah Winfrey's "World's Smartest and Most Talented Kids" program, playing festivals across Canada, Europe and Africa, and having a song "Revolution" featured on Swiss artist Stefanie Heinzmann's album Masterplan- all before the age of 14. Recently, Maillot debuted three singles off of Benevolence for CBC Q's Thursday Headliner series with Tom Power, they have placed several songs in TV/film (MTV, Hallmark, Netflix), and toured extensively throughout North America and the EU, including performances at Reeperbahn Festival, Rifflandia, Riverfest Elora, Dawson City Music Festival, Make Music Pasadena, and many more.