Posted On: Feb. 25, 2021
The Ultimate Guide To Making Your Virtual Show/Tour A Success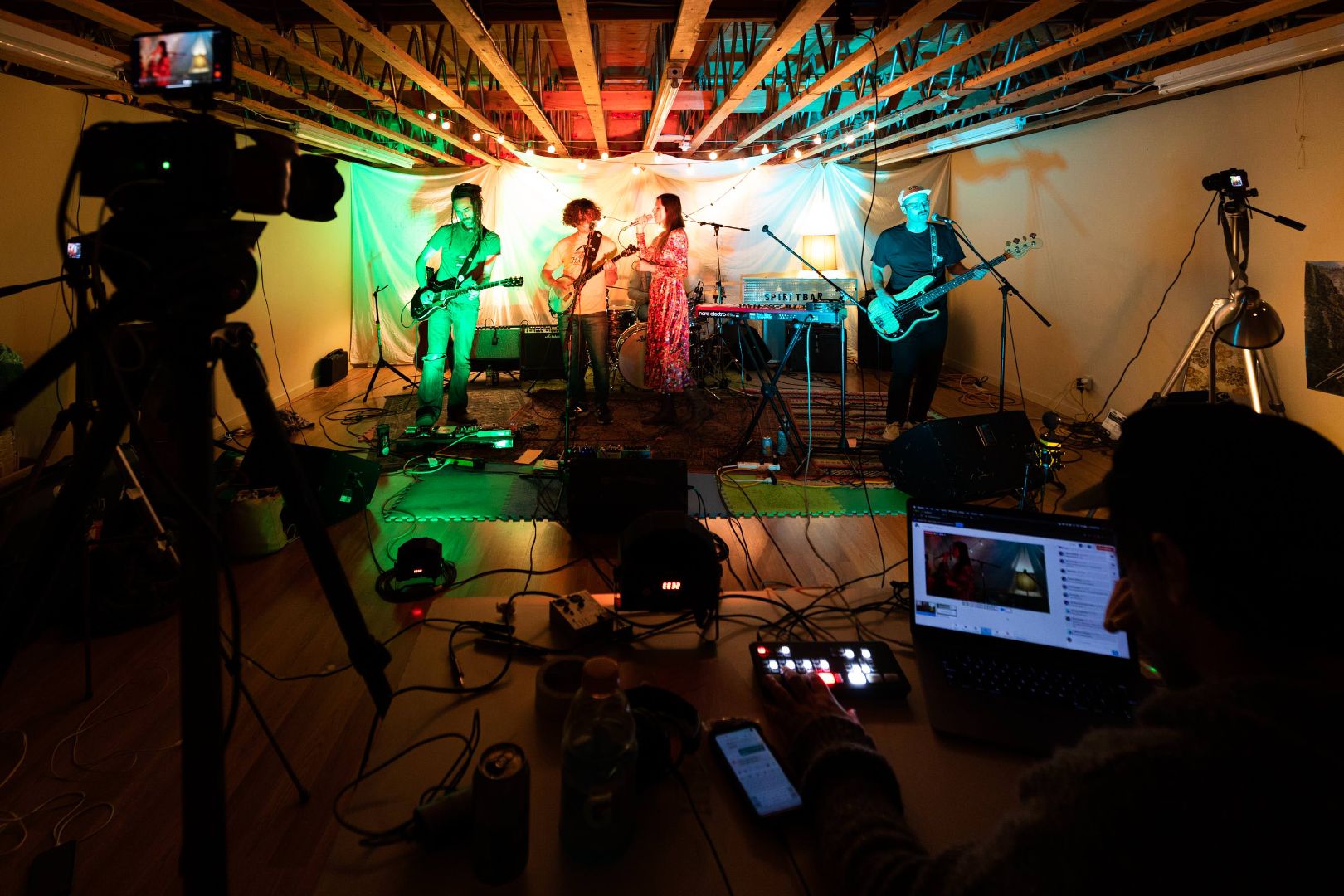 Shred Kelly is a five piece, alternative folk rock band that emerged from the heart of the Canadian Rockies in 2009. Over the past decade the band have taken their highly energetic live show from humble beginnings on the Canadian ski-town circuit to the international stage. Over the past year they have been at the forefront of engaging, creative, virtual events and tours. We asked Sage McBride to lay out everything an artist of any level needs to know to have their next virtual event a success.
-
In March 2020 we were gearing to produce our annual music festival, Fernie Stoke Fest, and then fly to Europe the next day to open for The Dead South for a 3 week tour. The tour with The Dead South was cancelled first, but we were still hopeful we would be able to pull off our community festival. As the capacity limits were getting smaller and smaller, we decided to cancel. A few days before the festival, everyone was told to stay home.
We have cancelled very few shows in our career, so just doing nothing didn't feel like an option. We quickly learned how to pull off a basic livestream, and since we could only be with members of our households, Tim and I, with our daughter Murphy strapped to my back, did an hour and a half livestream in place of Fernie Stoke Fest. Over 1000 households from around the world tuned in, and the stream has since been watched 80,000 times. It was during that time that we realized that people needed connection even if it was different then the way we were used to.
Following our first livestream we did an 8 week series with the band from our separate households with varying attendance of 150 - 500 households. It was a really wonderful way for us to connect with each other, other artists, our audience around the world, and fumble our way through learning how to livestream.
Although there are many more options for people to watch on the internet than in those first days of the pandemic, live streaming gives you a unique way to connect with people. It allows you to be raw, and vulnerable and maintain a connection with your audience until life returns to normal. Even when things do return to normal, I think we'll continue to do an annual Christmas livestream to connect with the fans in places we don't tour to that often.
There is also much more information available now than a year ago, so everything you need to know about pulling off a decent live stream is at your fingertips. But here are a few things that we've learned from our process.
1. Get Technical
Figuring out your technical requirements in advance may be the single most important thing you do. We've outlined what we've done for acoustic sets, and full band sets to achieve decent audio and video.

Acoustic Set
With streaming an acoustic set with only one or two performers you simply need a one or two channel USB interface and a condenser microphone. Condenser microphones are great at picking up the sound of performers instruments and vocals in a room but they need phantom power to operate so you have to make sure the USB interface you use has phantom power as an option. The USB interface is used to connect the microphone to the computer and whatever streaming site/software you are using to stream your performance whether it be Facebook Live, Instagram Live, Youtube, Twitch, Skype, Zoom, OBS, etc. With any of these live streaming services, you can choose where your audio and video sources come from so in this case you would choose your USB interface as the audio source and you can also choose what video camera will be the capturing your performance whether be the built in camera on your computer/phone, or an external USB webcam with better resolution.

Full Band
For streaming a whole band, things get a bit more complicated with the amount of audio channels you need to pipe into your USB interface. With drums, guitars, keyboards and microphones our band needs about 16 channels to pipe into the computer. To do this we used our live mixing board to plug all of our channels into and then used the Left and Right outputs of the board into a two channel USB interface. From there we mixed the sound levels on the board and did test runs on Zoom or YouTube (private videos the public can't see) as a sound check we could look back on. To get a really great visual of the band performance we used a multi-camera setup which was achieved with a HDMI switcher that allowed us to set up four cameras. Each camera was connected to the HDMI switcher and we could switch between cameras during our set with a friend at the helm running it. In our case, the HDMI switcher also doubled as the USB audio interface as well. (Black Magic ATEM Mini Pro Switcher)

Perhaps the most important aspect of having a great live stream is the internet connection. None of the above technical know-how will matter if the internet connection is unstable. We ended up upgrading our internet to a high speed fibre optic connection. You should try as much as possible to never rely on wireless WIFI and always try to hardwire the Internet connection straight into your computer to get the fastest speed. Unfortunately laptops don't come with those ports anymore so we had to get an adaptor to connect an ADSL cable straight into the computer.

2. Decide On A Streaming Platform

There are a number of different streaming platforms that all have different pros and cons. We have tried out Zoom, SideDoor (using Zoom), StreamYard, Youtube, and Lively Studio.

- StreamYard was great to use for Facebook and Youtube Livestreams and have special guest join in and out of the stream quite easily. There's even a backstage area where you can see the additional people waiting to join.

- Zoom and SideDoor using Zoom is great if you want to have audience interaction. If you have a moderator they can spotlight audience members so that the performer has engagement with the viewers. This is nice feature, cause we're all missing seeing people's faces right now. TIP: If you're using Zoom, watch a tutorial on how to ensure optimal sound before you go live.

- Lively Studio was another app that is integrated with Zoom that we tried out. The benefit of Lively Studio was that it allows you to monetize right from the event. So if someone makes a donation, it appears and encourages others to do the same in real time, without having to navigate away from the stream to do so.

There are also a wide variety of others to choose from. The best advice would be to watch a number of livestreams, decide which ones you enjoy the most and then try to create your livestream using the same platform. Definitely reach out to other artists with streams you've enjoyed and ask for pointers.

3. Design Your Set

Whether you're streaming from your living room, your rehearsal space, outdoors, or a venue, it's important to make sure you have great lighting and an eye-catching set. Do some test runs in advance to see what your set looks like on camera. Make sure the lighting is good, you're visible, there aren't any strange shadows, and that only what you're intending to be on camera makes it into the shot.

We've watched some live streams where people in their living rooms, and it looks great, to others that have collaborated with music venues with a full lights production, and everything in between. There is no right or wrong way to do it, just spend some time playing around with how the set looks on camera before you go live.


4. Collaborate and Make it Unique

To make your streams memorable you can hire a tech crew to assist with running the camera switcher to have multiple camera angles. You can work with a moderator to monitor the chat and share links to your merchandise page or ticket links, or to introduce you. In addition you can also collaborate with other artists to hop on your livestream to perform a song or two.

Some of the things we tried out have been having special guests. Early in the pandemic, back in March - May, we did a weekly livestream and had a special guest on each week to do a few songs from their homes. StreamYard was a great platform to make that happen.
As time went on, we did a few pre-recorded sets from beautiful locations and then a virtual album release tour in partnership with music venues.

For our virtual album release tour we also created a comedy series called "The Little Things" which we aired each night as we changed sets during the show.

For Christmas, we did a Christmas variety show special with a live element and pre-recorded sketch comedy videos.

We have embarked on a Festival Tour in February playing on the Facebook Pages of some Canadian Music Festival. We cross-share the shows on our Facebook Page and theirs to reach more viewers. To cross-share, you'll need access and permission from the pages you'll be collaborating to cross-share to their page. So make sure you have access to the pages before you go live.

Those are some of the things that we tried to make some of the streams a little more unique. I have also noticed some artists have played one album back to back, or done a stream where they take requests. Jill Barber did a great stream with virtual reality, and Low Cut Connie does a weekly stream that is free for anyone to tune in, and some that are for Patreon members only.

5. Monetize

After a year of no live music, monetizing streams is definitely something that is helpful a year into the pandemic.

Here are some ways to monetize:
- Sell tickets to your event using SideDoor, Eventbrite or Lively Studio. Offering a pay what you can option is great for people who may be experiencing financial difficulties during this time.

- If you're doing a free stream, have a moderator share a link to a Tip Jar, your website or PayPal account to accept donations.

- Enable Stars on Facebook to accept payments from fans

- Incentive people to tip or purchase tickets by taking a song request or doing an encore

- Partner with a charity to raise money. People may be more inclined to purchase a ticket if a portion of the proceeds are going to a charitable cause.

- Look into the possibility of event sponsorships and feature their logo or give a shout out to their business throughout the stream.

- Start a Patreon account and do some live streams for Patreon members only.
- Apply for Funding. You might be eligible to apply for FACTOR funding under the video program to help cover costs of your livestreams. Talk to your project coordinator. For BC residents, SoundON applications are opening up again. There is also Kinaxis InConcert funding that is available to venues to host live streams. Radio Starmaker may fund live streamed events as well. There are likely other funding opportunities, so it's worth reaching out to your provinces Music Organization to find out what funding opportunities might be available to you to produce a livestream.