Posted On: Sep. 17, 2020
THE WESTERN CANADIAN MUSIC ALLIANCE ANNOUNCES GERRY ATWELL
AS THE RECIPIENT OF THE 2020 HERITAGE AWARD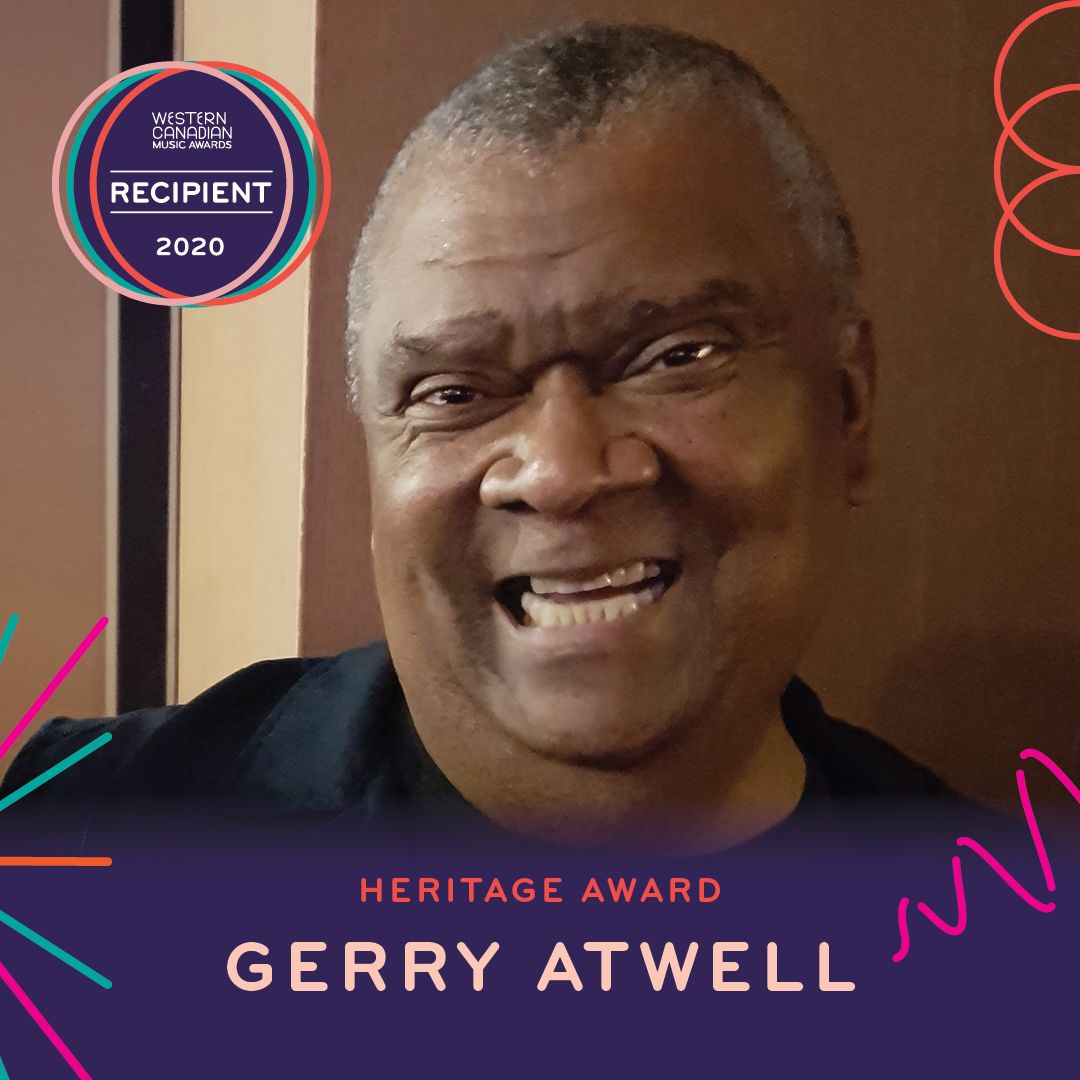 ALL WINNERS OF THE WESTERN CANADIAN MUSIC AWARDS TO BE ANNOUNCED ON
SEPTEMBER 25 DURING SPECIAL LIVESTREAMED EVENT
The Western Canadian Music Alliance is thrilled to announce award-winning musician, and creative mentor, Gerry Atwell, as the 2020 recipient of the Heritage Award. Each year, the Heritage Award is presented to a person who has made significant contributions to the music industry over the course of their career.
Gerry Atwell was larger than life and truly a Renaissance Man. He was known for his vigourous performance on-stage, and his gentlemanly demeanor off. He was most known as a keyboard player and vocalist with bands such as the JUNO Award-winning Eagle & Hawk, Ministers of Cool, Rockalypso, the Boogie Nights Band and Voice of Boom. He was a dedicated board member, mentor and facilitator for a long list of arts services, community and social justice organizations, and oftentimes, a founding member of new organizations where he saw need. His work can be felt throughout the whole city of Winnipeg, in organizations such as the St. Norbert Arts Centre, the Broadway Neighbourhood Centre – where Atwell was instrumental in the creation of its successful Just TV program – Manitoba Music, the Black Educators Association of Manitoba, the Manitoba Association of Playwrights, Manitoba Film & Music and many more. Atwell mentored many young and aspiring artists, with a particular interest in inspiring youth through music and the arts. His peers described him as a connector – and not just for music – and an essential go-to person in the music community.
"I think it's absolutely great that Gerry is recognized and honoured at this year's BOW/ WCMA," exclaims Vince Fontaine, Eagle & Hawk / Rising Sun Productions. "Gerry was a proud Manitoban and talented musician who always looked for ways to build and move the needle in the name of cultural voice and societal justice. He was a wonderful friend and is missed dearly."
"Gerry Atwell will forever be a leading light in our music community," adds Stephen Carroll, BreakOut West Winnipeg Host Committee Co-Chair. "There is not a stage in this province, and only a few across the country, which he hasn't graced. It would be hard to find a Manitoba musician who hasn't benefited from his advice or mentorship. Through his multifaceted career in music – as a performer, bandleader, and administrator – he became a vital figure in our music scene. He leaves a legacy of moving performances, and his generous spirit will be an inspiration for future generations of Manitoba musicians. The Winnipeg Host Committee is humbled to nominate him for the 2020 Western Canadian Music Heritage Award."
Atwell will be formally honoured as the Heritage Award recipient during a special livestreamed event on Friday, September 25, where all winners of the Western Canadian Music Awards will be revealed as well. The full list of 2020 Western Canadian Music Award nominees can be found here.