Posted On: Jul. 3, 2023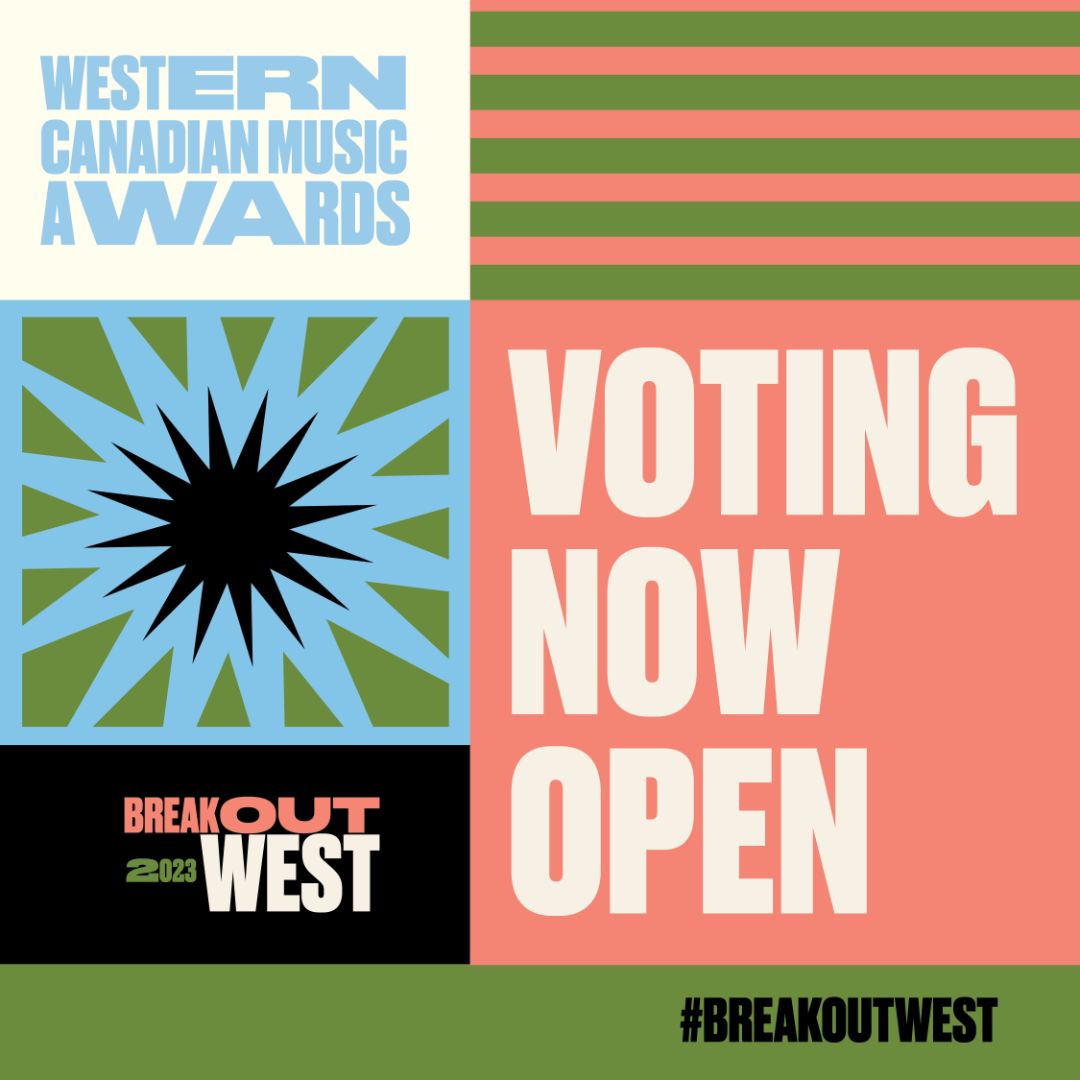 THE WESTERN CANADIAN MUSIC ALLIANCE ANNOUNCES
2023 WESTERN CANADIAN MUSIC AWARD NOMINEES
VOTING NOW OPEN TO MEMBERS ONLY
UNTIL TUESDAY, JULY 18
WINNERS TO BE ANNOUNCED IN OCTOBER DURING BREAKOUT WEST IN KELOWNA, BC
KELOWNA, BC – July 4, 2023 – Today, the Western Canadian Music Alliance is excited to reveal the 2023 Western Canadian Music Award nominees. The winners of the awards in both the Artistic and Industry categories will be revealed during BreakOut West, which will take place this year in Kelowna, BC from October 11-15. Please see below for the full list of nominees, and stay tuned for more announcements about this year's specialty award recipients, as well as details on the winner reveal celebrations.
"We are excited to announce and celebrate the 2023 Western Canadian Music Awards nominees," exclaims BreakOut West Executive Director, Michael Dawson. "On behalf of Breakout West and the Western Canadian Music Alliance we would like to congratulations to all of the nominees and thank all of the artists and industry who submit. Your hard work, talent, and integrity is an inspiration."
Voting is now open to members of all western Provincial and Territorial Music Industry Associations. Only MIA members will be sent an email regarding login information to vote (beginning today – Tuesday, July 4). If any members do not receive an email, please check your junk/spam folder and then contact their Music Association regarding their membership. Voting will conclude at 11:59 p.m. Pacific Time, on Tuesday, July 18. Stay tuned for more details around member voting and the Western Canadian Music Award winners this fall.
Now in its 21st year, BreakOut West continues to develop, support and honour the best of western Canadian music, with its annual conference, festival and the Western Canadian Music Awards. 2023 is shaping up to be an exciting year for the WCMAs, with nominee representation from all of the provincial and territorial Member Associations, and an outstanding showing from host-province acts, MAUVEY, and Snotty Nose Rez Kids, who top the list with four nominations each.
BreakOut West 2023 officially begins on Wednesday, October 11 with the start of its five-day career development conference and international industry program. Offering immersive content, international market deep dives, one-on-one mentor meetings, workshops and more, the conference is a landmark event for both artists and industry alike, looking to gain insight into the ever-changing musical landscape, and make invaluable connections. Featuring the best in emerging talent from across western Canada, as well as select international and Pan-Canadian acts, the 2023 music festival will highlight 50+ artists performing at multiple venues across the host city. Festival wristbands are available now here.
Congratulations to all of the 2023 Western Canadian Music Aristic and IndustryAward nominees!