Posted On: Oct. 23, 2019
Winnipeg's "Village Idiots" BreakOut West Experience!
---
I never dreamt of ever going to Whitehorse, Yukon. When Breakout West 2019 was announced I had no idea if I should be excited or kind of disappointed. In all honesty, I wasn't that excited. After all, I knew nothing about Whitehorse and the previous year was in beautiful Kelowna. For all I knew it was some far-away place that was going to cost an arm and a leg to travel to, it'd be really cold and kind of boring (way out in the boonies!). Wow, was I ever WRONG!
Fortunately, our team (The Village Idiots) were up for two industry awards (Community Excellence Award and Impact in Music Marketing) for our work on our web series Live at The Roslyn (Season 4 starts Nov. 13th!) and for promoting music in Manitoba. So, we were extra inclined to travel there this year and be a part of the festivities. Despite our reservations, we booked our flights (which weren't actually that expensive!) and started planning our trip. 6 of us Idiots were on our way to Yukon!
My girlfriend Morgan and I arrived a day earlier than the rest of our team and decided we'd go and check out what Whitehorse had to offer (we had no clue if there were even bars there!). Our initial impression was positive. We jumped from venue to venue including The Dirty Northern, 98 Hotel, The Local, Gold Pan Saloon and Paddy's Juke Joint. We were surprised how many cool little venues there were and all the locals were so nice to us!
On Tuesday, we rented a vehicle and drove up the Alaska Hwy. to Kluane National Park. The whole drive was so beautiful. It's so nice to look out at nothing but wilderness, mountains and beautiful scenery. Our team arrived later that night and we met them at The Local for a couple drinks, alongside our pal Sebastian Gaskin (who was showcasing that weekend). Jenny and the team at The Local took great care of us all night! Thanks Jenny! The Local ended up being our favourite venue that we frequented each night.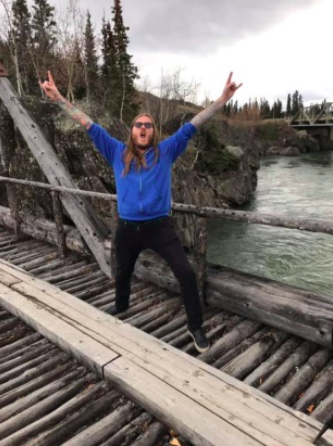 Picture somewhere along the Alaska Hwy taken by Morgan Emms
On Wednesday, we registered with Breakout West and then headed to check out Miles Canyon. We hiked up the trails alongside the Yukon River and it was so beautiful there! We finished the day at an opening ceremony put on by Yukon Music, the host committee and the City of Whitehorse (at the MacBride Museum of Yukon History). They threw a great party and welcomed us with open arms. It was so nice to learn about, and hear from, the Kwanlin Dun First Nation people (whose land we were on) and hear some of the cool bands Yukon has.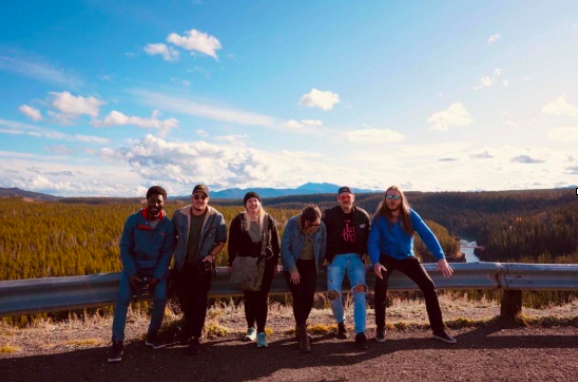 Our team above Miles Canyon. Mike Osikoya, Kevin Maretz, Joey Senft, Morgan Emms, Kevin Repay and me
Thursday was officially the first day of Breakout West. It had already felt like the trip was amazing but we were just getting started! We began at the Artist Music Awards held at the Kwanlin Dun Cultural Centre followed by the kick-off party featuring Del Barber, Sarah MacDougall and The Dakhka Khwaan Dancers (who all were awesome!). Before the awards there was a sacred fire ceremony where an elder said some beautiful words and I was able to throw some tobacco and sage on the fire for good luck and to wish for a great festival. One thing I really realized, and appreciated, was that the indigenous people were so welcoming and had such a beautiful message to share.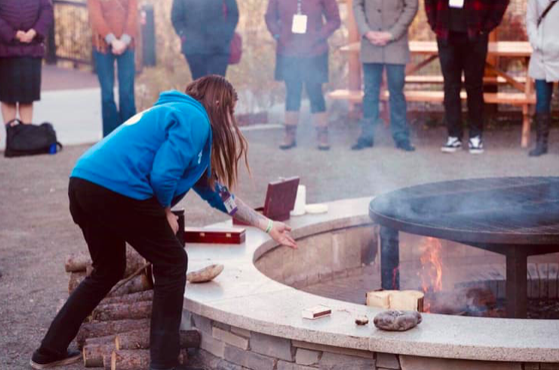 Picture of me throwing tobacco and sage in the sacred fire taken by Joey Senft
On Friday we went back to Miles Canyon to film a video of Sebastian Gaskin playing his song False Nostalgia on a cliff (video below) which turned out awesome. At night we saw Mise en Scene, Amelie Patterson, Silence Kit, Miesha & The Spanks, Whale and the Wolf and Major Funk and The Employment. Every band killed it and it was such a great night of music! Every venue was packed, as they had sold out of all wrist bands, and everyone seemed to be really having a great time.
https://www.youtube.com/watch?v=lww_NuUb0vQ (Sebastian Gaskin Live at Miles Canyon, shot by Kevin Maretz and Joey Senft, edited by Kevin Maretz)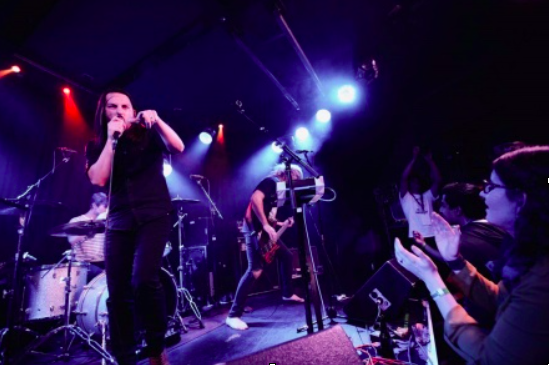 Picture of Whale and The Wolf at The Local taken by Joey Senft
On Saturday, we had the Industry Awards brunch where we were up for our two awards. Unfortunately, we didn't win (congrats to the National Music Centre and all the other winners!) but we were just excited to be nominated in the first place. Afterwards I checked out the Music Management Workshop (presented by MMF Canada), Festival Futures panel and I moderated a panel called Submission Session: Video Asset Review. All the panels were so informative and featured industry people from all around the world. I highly recommend all aspiring artists to check these out. At night it was back to music. We saw Mariel Buckley, Pretty Archie, Sebastian Gaskin, Alexandria Maillot and Micah Erenberg Band. Another stacked night of amazing musicians. The smile never left my face all week!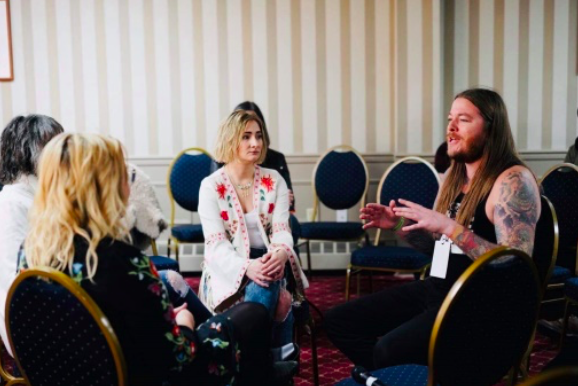 Picture of Myself and Elise Roller at the Music Management Workshop, taken by Mike Osikoya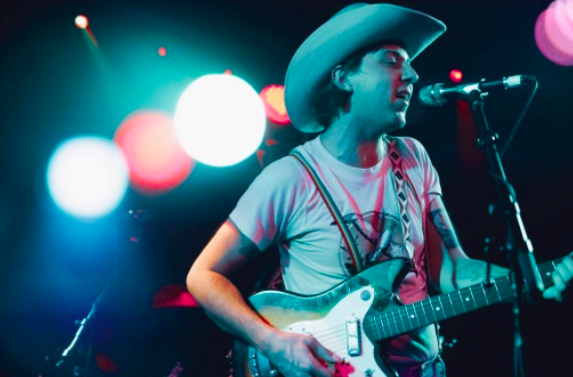 Picture of Micah Erenberg at The Local, taken by Kevin Maretz
The weather was beautiful the whole time we were out there and the snow held off all the way until Saturday night. We woke up Sunday to there being a foot of snow and a couple guys from our team ended off the great week with a snowball fight and some face washes.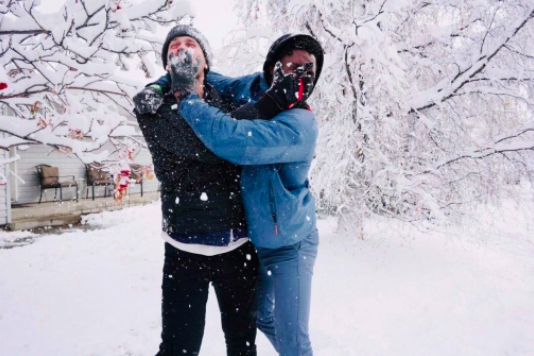 First day of snow face washes. Picture of Kevin Repay and Mike Osikoya, taken by Joey Senft
All in all, it was an absolutely fantastic week at Breakout West 2019. The whole Breakout team did so well, the panels were very informative, the locals were so nice/accomodating, the venues were awesome and the music blew us all away! We are already excited for Breakout West 2020 in our hometown of Winnipeg, Manitoba! We hope to see you all there.
Written by Rylie Saunders