Posted On: May 30, 2020
Working Parents Feature:
Miesha Louie  - Miesha & The Spanks
How does one balance being a parent and working in the music industry? What unique challenges are there as a touring parent? What changes would musician parents like to see from the industry in regards of parenthood? We wanted to start a conversation about what it's really like to be a parent in today's music industry and invited seven diverse western Canadian artist and industry members to talk about what it's like for them….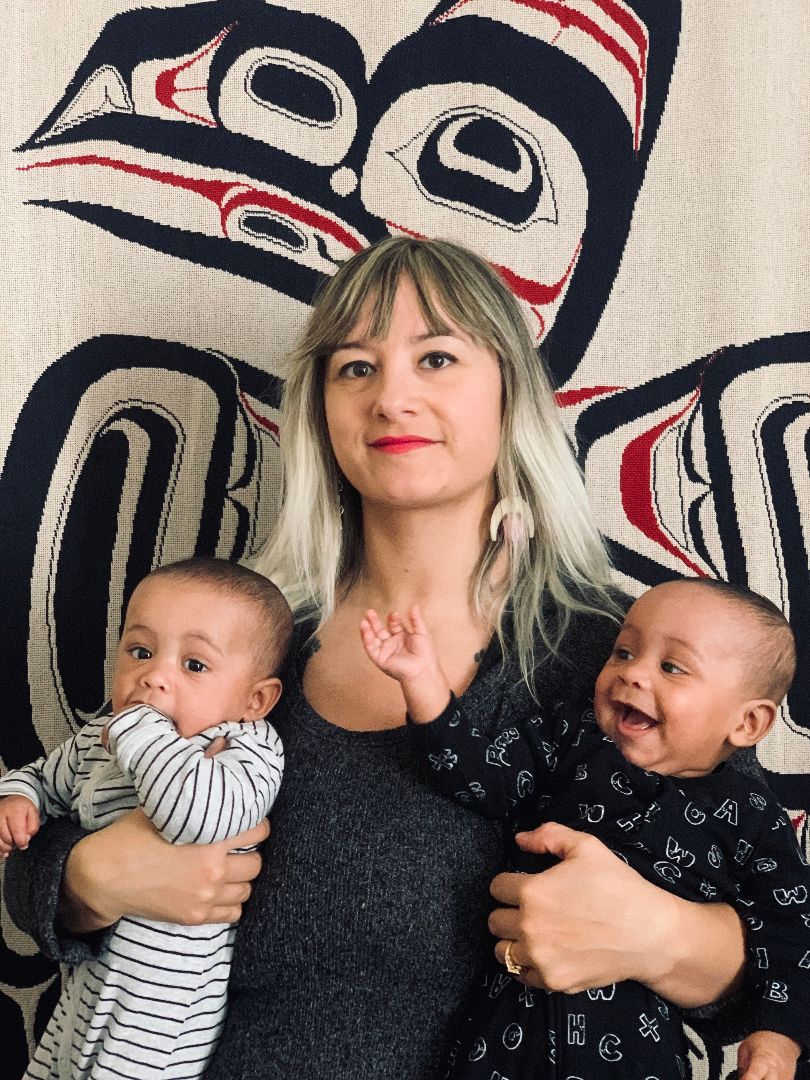 Miesha Louie leads Calgary's garage rock two piece Miesha & The Spanks-- both on stage and behind the scenes. She's also co-run Girls Rock Camp Calgary for the last seven years, and is newly the parent of 6 month old twins, Arthur and Otis. 
Where were you at in your music career when you had your first child? Was there much discussion about how that life choice would affect your career within the music/entertainment industry?
My band was (is) still developing but was successful enough to be my full time job. I manage and book Miesha & The Spanks, as well as write all of our grants, and our music. We had gained a lot of traction with our latest album, which was nearing the end of the release cycle when my husband and I started trying to get pregnant. The band getting into international showcases, and keeping up a steady tour momentum while we tried. I kept plans 6 months ahead in case we were successful, because I figured I would be comfortable playing shows or weekend tours into my 5th month of pregnancy. I made a plan with my husband and with my band for how things would go during the pregnancy and after the babies were born, because I didn't want to lose any of the momentum we had gained. So there was a lot of discussion and planning going on from before we even conceived!

As a working parent in the music industry, what are some of the biggest challenges you are facing? 
Bearing in mind that I have newborn twins - it's harder to go out, so I miss out on a lot of the face time that happens at shows and events. It makes trying to keep up with what's happening in my local music community-- new bands, venues, promoters, etc-- trickier as well. Trying to schedule video meetings can be tough, especially if I'm stuck taking them when I don't have any help with the twins. You can pretty much guarantee at least one crying baby in the background which is pretty distracting for all parties. Finding the time to work, both creatively and on the business end, has maybe been the biggest challenge. It feels like I have to choose between the two more and more as I go, it's difficult to find the balance.

What is one small change within the industry that could make a positive impact for working parents?
If there was more notice on selection for festivals and conferences it would go a long way. More time to plan ahead and juggle my husband and mine and my parents and my children's schedule would be great. Especially if the best (or only) option was to bring them with me, an additional last minute flight or accommodation can get pretty expensive, especially to accommodate a family, and grants barely cover a 2 pc band's expenses most of the time, let alone any kind of crew.

How do you find support and community with other working parents in the music industry?I haven't really interacted with any other parents in music yet, besides some messages to offer support after they were born. I took (and continue to take) inspiration from other mothers in music, mostly during my pregnancy. I expected to be met with negative stories about mothers quitting music, but instead it seemed so many of my peers had stories about other women who didn't stop or let it slow them down - Julie Doiron, Deap Vally's drummer, Shaela Miller, for examples. I imagine when they're older I'll be more involved with other working parents.

What's one specific example of an organization/venue/company doing something great to help support working parents?
While I wasn't chosen this year, during the application process for Keychange, there was a section about childcare funding that was to be kept separate from anyone viewing the application, so that it didn't deter your selection. If successful, they would have funded flying my husband with me to the events with the babies. I though it was very cool that they offered it separately from the application process. Also, we'll be performing at Squamish Constellation Fest this July, and they offered to have childcare ready for me if I decided to bring the twins. 

What could a music event, do or provide to make it easier for you to participate?
All Ages programming at a conference would make it easier to participate while spending time with my children. That face time is important, both in the industry and with your family. That might help make it a little bit easier to achieve both simultaneously.
Enjoyed reading Miesha's answers? Read more from other parents featured in our series:
Sage McBride (Shred Kelly)
Tyler Bancroft (Said The Whale)
Christine Rogerson (Live Nation)