Posted On: May 27, 2020
Working Parents Feature:
Christine Rogerson - Live Nation Canada
How does one balance being a parent and working in the music industry? What unique challenges are there as a touring parent? What changes would musician parents like to see from the industry in regards of parenthood? We wanted to start a conversation about what it's really like to be a parent in today's music industry and invited seven diverse western Canadian artist and industry members to talk about what it's like for them….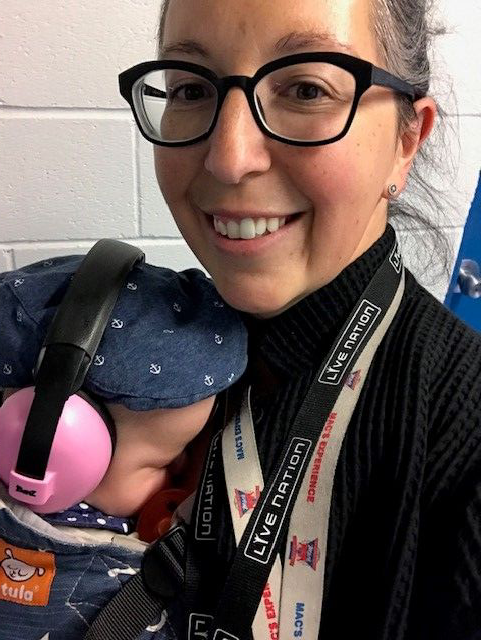 Christine Rogerson is a Festival Manager with Live Nation Canada, overseeing and producing festivals and events throughout the Central Region. Prior to Live Nation, Christine was a Director with Union Events, managing the company's touring operations and festival properties, including Chasing Summer in Calgary, Sonic Boom in Edmonton, and Riot Fest in Toronto. She started her foray into the music industry as a volunteer, then as the venue manager of the Horowitz Theatre and Dinwoodie Lounge at the University of Alberta, before becoming the Senior Manager of Programming and Venues and managing the music and entertainment programming on campus. She has two children, ages five and two.
Where were you at in your career when you had your first child? Was there much discussion about how that life choice would affect your career within the music/entertainment industry?
I had already been working in the industry for well over a decade when I had my first child. I had been working for Union Events, an independent concert and festival promoter, in a senior management role and the first maternity leave that they had encountered, so there were a myriad of challenges and questions as to how we would deal with my leave and fill the gap of my absence, how I felt about stepping out of our rhythm for whatever length of time, and how this would impact our work moving forward. They were very supportive and open to figuring it out with me, which was reassuring, but it wouldn't come without challenges for all of us.
That said, I did encounter individuals who seemed to think that I needed to step back from industry commitments during this time, as though it would be too difficult to manage it all. While I took it as a bit of challenge to show them otherwise, it could have been discouraging. I want to show my children that you can be driven in your career and still have a vibrant family life. It takes effort but proving any naysayers wrong feels good.
As a working parent in the music industry, what are some of the biggest challenges you are facing?
As a Festival Manager with Live Nation, my busiest time of year with work coincides with what would be summer holidays for most families. My children are young right now (five years and two years old), so we haven't fully had to experience what life will be like when I have 12 to 20 hour days at a time where they are itching for summer adventures... but it is top of mind for me. I try to work as efficiently and productively as possible in my work days so that I can be present for the kids during our time together. As well, my husband and our extended family are supportive, which is key for all of us to be successful.
My employers have been supportive and accommodating to the demands and struggles of parenting though, which makes all of the difference in our ability to maintain our careers while embracing this chapter of our lives. I join conference calls with the kids in the background (muting quickly and often!). I have had a child strapped to me in a baby carrier while we build a festival or engaged in a strategic planning session. I have pumped breast milk in a hotel room while travelling for a festival. I have taken my kids to a site meeting or driven them around in a golf cart before doors open. I have plonked a sick kiddo down on my office sofa while I try to get a few things done before we go home.
That said, it is a constant juggle. It requires a considerable amount of effort to manage most everything well... and to figure out what you let go because you can't do it all.
What is one small change within the industry that could make a positive impact for working parents?
One "small" change would be the reframing of employment of working parents... focusing less on the challenges and additional supports that may be required to focusing on the talents of the individual, supporting work-life balance, and investing in their development or training to manage their workloads or time. I am not a burden as an employee because I have a family. I have learned to be that much more efficient, decisive, and diligent because of my experience as a parent. I also have a responsibility to be present with my children and "turn off." So, I take that time for work-life balance and don't just put it off because it is about more than just me. I have adventures with my family, fill up my cup, and then come back to my desk refreshed (or as refreshed as possible! haha).
How do you find support and community with other working parents in the music industry?
I find this to be a challenging one. On the production side of the industry, I encounter more men who may have families but less women. I do have many other working moms in my network but not a significant number who work in the industry or may work in more stationary industry roles (such as finance, marketing, etc). It is invaluable though to connect with other moms working in the industry to share strategies for making it all work, sometimes seek some validation for the parts that you let go (like a spotless house or being at every soccer game), or just to commiserate.
What's one specific example of an organization/venue/company doing something great to help support working parents?
Live Nation has a myriad of benefit programs to support parents, which have been amazing for our family. Through Roadie Babies, the company will help cover expenses related to bringing your child (under two years) and a caretaker on the road for work trips! In addition to this and other programs, there is Music at Home to assist with the expense of instruments or music lessons for dependents, a contribution towards your childcare expenses, paid parental leave, and Kid Nation, Live Nation's version of Take Your Child to Work day. These are very real benefits that support working parents.
What could a music event, do or provide to make it easier for you to participate?
Not only for parents but for anyone who may require some special care with their arrangements, it would be beneficial if there were an opportunity during the registration process to disclose (if they want) that they may be travelling with their family, request some accommodations, or simply provide an opening whereby the participant could speak with someone at the organization about their needs. For parents, this could be anything from assistance in ensuring their hotel room meets their needs if they are travelling with their children (eg, away from the elevator and ice machine so bedtime is easier, close to conference if they need to breastfeed or pump, room large enough to fit a travel cot, etc) to scheduling some events during the daytime which may be easier for participation versus all evening functions.
Enjoyed reading Christine's answers? Read more from other parents featured in our series:
Sage McBride (Shred Kelly)
Tyler Bancroft (Said The Whale)
Ed Dorucher (Apollo Suns)
Miesha Louie (Miesha & The Spanks)