Posted On: May 26, 2020
Working Parents Feature:
Ginalina - Performing Musician
How does one balance being a parent and working in the music industry? What unique challenges are there as a touring parent? What changes would musician parents like to see from the industry in regards of parenthood? We wanted to start a conversation about what it's really like to be a parent in today's music industry and invited seven diverse western Canadian artist and industry members to talk about what it's like for them….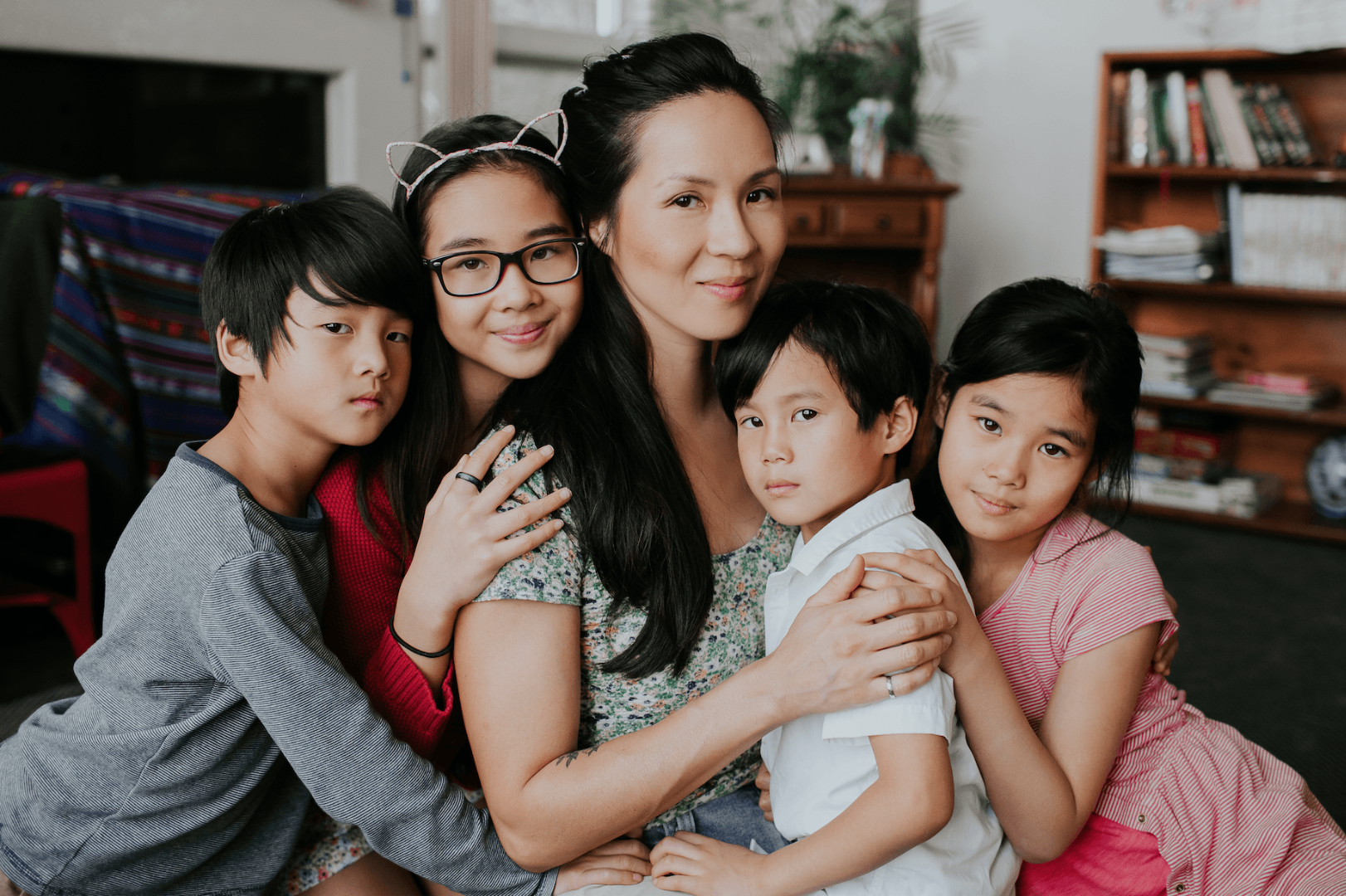 Ginalina is a two-time Juno-nominated singer-songwriter and mama to four precious children (ages 6, 8, 9, 11). She has four award-winning albums, including her newest: Small But Mighty. These days, she is loving on her kids lots, making a little music together, and quietly working on her first picture book.
Where were you at in your music career when you had your first child? Was there much discussion about how that life choice would affect your career within the music/entertainment industry?
I wasn't formally in the music industry when I had my first child. I was an engineer in the healthcare sector and enjoyed songwriting and singing the occasional show on the side. As I had more children, they shaped my songs to have a more family focus. On my forth mat leave, I wrote a free-spirited album inspired by our adventures in Pacific Spirit Forest. It received a JUNO Award nomination in 2016, and started the process where I eventually I switched over to the music industry.
My children make my music career so much more meaningful. I want every album to reflect how incredible, clever, and fun kids are, so I'm motivated to work hard all the time.
Since I'm also a homeschooler, the experiences I share with my kids during the day sneak their way into the albums I write for them at night. In Small But Mighty, for example, I have a great team spirit song about playing basketball. My kids chanted on the track and I included Kawhi Leonard's buzzer beater shot that we watched in the Raptor's NBA semi-finals. It's a fun memory and a real snippet of our life together. I love little things like that.
Having kids also pushes me to weigh my family with my personal, creative, and professional goals. I've had to set boundaries on how many project and tours I take on and although I can't do everything I want, or play every show, it also means that everything that I can do is really special. (I also really love and need my own space to be my own person, outside of being a mama, just like I had when I was an engineer.)
As a working parent in the music industry, what are some of the biggest challenges you are facing?
Music is one of those industries where people need people to make it work. Everybody has a role to play to keep the community afloat - producers, engineers, graphic designers, publicists, booking agents, accountants, festival planners, artists, etc.! It's hard to get started and is hard to maintain. For independent musicians, and working parents, finding the time to make good music and also run a good business is a challenge. In general, working moms also experience more changes after having children - mentally, physically, and emotionally, and that takes a while to figure it all out too. It can also be super distracting to work at home, with noise and colourful toys, and snack interruptions every half hour.
What is one small change within the industry that could make a positive impact for working parents?
Industry conferences are great places to gather players and resources in one venue. It would be great to compile that sort of information online as well in a central database of some sort. Having a standard summary of key supporting businesses and professionals would be helpful. It makes me think of the Telus Storyhive online community, or just a managed (exhaustive!?) resource list.
On a deeper level, it would be amazing to see the results of a deep scan of the music world, province by province, to figure out who we are, what we do, what are our strengths, and where are the gaps and opportunities. Are we lacking human infrastructure? Are we making impactful music? Are we diverse? Are we bringing in tourism? Are we inspiring a new generation of creatives? Are we sustainable as an industry? How many days are musicians performing, and where? Do musicians have succession plans?
And, I'd be happy to talk more about my journey in the family (children's) industry with any parents who are interested in learning about it. It's a great market for artists, and it's a valuable need for our young people, to have more music options gearer toward families.
How do you find support and community with other working parents in the music industry?
It's amazing to think about how many musical colleagues are also parents and navigating the balance of music and family as well. In the gym, I've met a group of other musicians who have been great to hang out with. Some of them are also musician parents who can empathize with specific struggles and feelings I've had. It's nice to get real with them. Both of my producers also have young children and it's great to see how they manage family and work life. I've also met some amazing event planners who are also parents, and the fact that we all have kids help us form an instant bond. I love that support and community is often right under our noses.
What's one specific example of an organization/venue/company doing something great to help support working parents?
It's great when organizations make opportunities to gather diverse people around a table, talking about their experiences and sharing how they see the music industry supporting each other and growing. The more we talk together, and learn about each other's stories, the easier it will be to understand each other and build a better future that supports the people and things we care about. Working parents, emerging artists, women, under-represented musicians, established artists, industry professionals, all. I also think that granting bodies (e.g. FACTOR, CCA, SOCAN, CreativeBC, the list goes on) are a huge boon to all musicians, including working parents. It helps to support the vision of artists to make good music, as this is a non-traditional job with irregular income, with so many qualitative and quantitative impacts.
I'm proud to be part of the music and arts community. I'm proud so see our resilience and support for each other. I think the days ahead are going to be hard for us, but I'm so inspired by all we have done, and all we've yet to do, still for each other and our communities at large.
Enjoyed reading Ginalina's answers? Read more from other parents featured in our series:
Sage McBride (Shred Kelly)
Tyler Bancroft (Said The Whale)
Christine Rogerson (Live Nation)
Ed Durocher (Apollo Suns)
(Miesha Louie (Miesha & The Spanks)